Keanu Reeves: Good Guy Bad Actor
There I've said it. Don't get mad and let me explain. Ok. I've been a fan of Keanu for the past 30 years or so. He's had an incredible career, he's been versatile with his roles and a long list of fantastic movies. And he's apparently a genuinely nice guy. Which is awesome. Hollywood could use a great example on how to be a decent human being and plenty of young shots could really learn a thing or two from him.
He's a very private man, a very generous man, and a very likable man. His charity donations are apparently legendary but they're not made public. He's not after publicity and validation from society which is again… awesome. And the thing that it took ages for people to notice. He doesn't touch people when he's taking a mutual photo with them.
I can't tell if it's due to germ-phobia or he's simply respectful of the people, it's been finally noticed by the general public. But of all the good deeds that he's been done by this good guy, his acting was not one of them.
It may be hard for you to accept but Keanu is not the best actor in Hollywood. Although it's certainly noticeable, he's never had any problems with it when it comes to the progression of his career. He's been only one note type of an actor and even his speech has been the same in almost every role. He's not that proficient in accents, he's not versatile in his delivery and his comedic timing has been stiff, to say the least. But he's got an amazing list of movies.
It's baffling to me, to be honest. There are plenty of more talented actors than him that don't have even half of the career that he has. But I think that the likability, the generosity and his down to earth nature really compensate for that. He's been through some rough and darker times in his personal life, but for the most part, his personal life has been an enigma. The media doesn't really have a clue about his private/love life and his private life has never been an obstacle or a set back to the progression of his career. But just like any other actor on the planet, he too benefits from having a good script to rely on and a good director to guide him through production. That helps a lot actually, but judging solely on his performance he's not that impressive.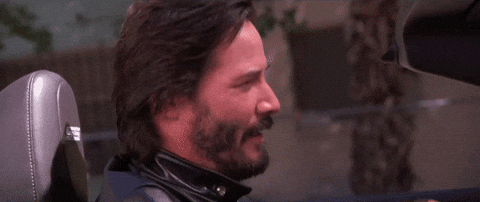 Plus the man doesn't age. He looks the same as he did 20 years ago and he's in his mid-50's. He can still kick ass in martial arts and he's got some amazing movies lined up for the next 2 years. And much like most of the hardcore fans, I too have a favorite Keanu movie. Much Ado About Nothing. Yeah. That's right. Constantine is my second favorite. But have you noticed that his acting is pretty much the same in a Shakespearian comedy and in a dark comic book inspired movie? I hate to say it. He's not a good actor. But I'm soooo glad that he's a good person. People like him are a rarity these days and he's been a true gift to society.  I'm looking forward to seeing Toy Story 4 though.