I watched Predator for the first time and… oh boy… I can't wait for the sequel
Last night was a low key Friday date night for me and my fiancée. He was not feeling that well so we decided to skip venturing out and stayed at home curled up in bed with some red wine, ramen noodles and chocolate. And while we put binge-watching David Fincher's Mindhunter on hold for a bit, Martin suggested we watch one of his favorite childhood movies. Predator.
We're both huuuuuge fans of Shane Black, and frankly hearing his name… was pretty much all I needed to be persuaded.
So you can imagine my delight when I woke up and saw the motion poster for the upcoming sequel of Predator. Written and directed by Shane Black, the fourth installment in the Predator film series is headed to the movie theaters on August 3rd 2018 and it's set to take place between Predator 2 (1990) and Predators (2010).
I have to say that the motion poster looks bad ass but before I get down to the business of explaining why I liked the 1987 Predator, I just want to mention why I'm looking forward in seeing the 2018 sequel.
First of all its directed and co-written by "Rick Hawkins" himself and being a massive fan of Shane Black's writing and directing I can't wait for a Christmas themed Predator setting. Furthermore, I'm also a big fan of Boyd Holbrook and after seeing him in Narcos and in this year's Logan I want more of him. Waaay more. I love the talent of Olivia Munn, Thomas Jane, Trevante Rhodes, Sterling K. Brown and the outstanding child actor Jakob Treblay, but I was also excited to find Keegan-Michael Key's name in the cast. I hope he provides the comic relief in this scary and gloomy movie, but I'd be happy if I see the opposite. I really appreciate when comedic actors deviate from their natural habitat and explore much darker (or Type A) characters.
But back to the topic at hand. I never thought I'd like the original predator to be honest. I never had a thing for SF/moster/alien action movies to be honest. I liked the Alien franchise movies, but that was mostly because they had a female action her character (Elen Ripley) and while I was watching Predator last night, I remember making a "This is too macho" for me remark to my fiancée.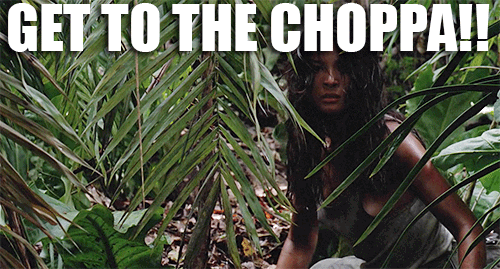 I ain't got time to bleed
– a line that was silly as it was memorable but I really enjoyed the action sequences, the direction from John McTiernan and the simple yet intriguing premise. A team of commandos goes on a rescue mission and ends up being hunted by an Extra Terrestrial predatory being. Simple yet classic plot and very early on the movie becomes a game of "Which person will be killed first". Having a South American jungle as a setting in the 99% of the movie becomes boring and tiresome after a while but, the action makes it all worth wile and Schwarzeneger is here at his post Terminator best in terms of physique and likability. He's even somewhat handsome too I must say.
So I really can't wait for the 2018 Predator sequel. I think Shane Black will do a fantastic job, but while we wait for the 2018 release, let's marvel at the fantastic motion poster of the upcoming sequel.