Oh… It's just some of my favorite Brendan Fraser films
Let's talk about his dude for a minute… Yup… You've probably heard of him, and if you were kid growing up in the 90's he was your crush, for the better part of that decade.
Oh, yeah… Guilty as charged… Look… before Leo-mania came around in the late 90's, Brendan Fraser  was there with those big beautiful lips, that deep and resonant voice and those big puppy eyes to fill my man crush void.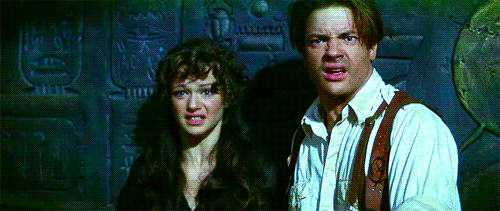 Oh and let's not forget the movies he made in that period. They were some of the bad-ass, most entertaining and funny pieces of film art, so you can imagine that it was not just hormone led crush. He was an action star when it was not fashionable (unless you were big muscle guy named Silvester/Arnold) and he also had a great comedic timing. Admit it.. The Mummy would have been a flop without his perfect comedic delivery.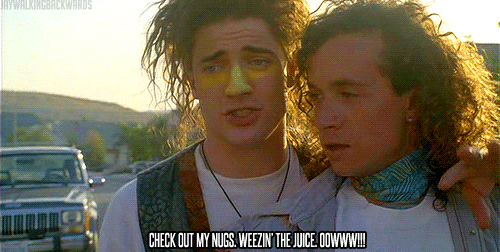 But this week, Frasier came back to the spotlight with some heavy accusations. The Canadian actor claims that he was sexually assaulted by the ex-Hollywood Foreign Press Association president Philip Berke back in the early 00's. He also claims that he was blacklisted for many years after this assault.
Brendan is one of the handful of men who reported publicly that have been victims of sexual assault, and feel for him. I really do. I wish he could reclaim and revive his career, that has been stagnant for so many years now, and I wish that he could find success again.
There are plenty hard core fans (like me) that would not even think twice to pay and see him in a great new movie. But for now… let's look back at some of his finest movies. And trust me… There are plenty of great Brendan Frasier movies, and here is a list of some of my favorites.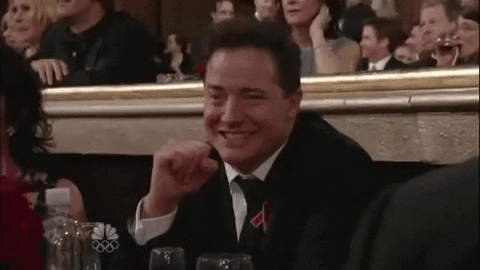 Encino Man (1992)
Director: Les Mayfield
Stars: Sean Astin, Brendan Fraser, Pauly Shore…
Fun fact about the movie: Jim Carrey and Nicolas Cage were both considered for the role of Link before Brendan Fraser was cast.
School Ties (1992)
Director: Robert Mandel
Stars: Brendan Fraser, Matt Damon, Chris O'Donnell…
Fun fact about the movie: Amy Locane and Brendan Fraser also played a couple in Airheads (1994).
Twenty Bucks (1993)
Director: Keva Rosenfeld
Stars: Linda Hunt, Brendan Fraser, Elisabeth Shue…
Fun fact about the movie: The script was originally written in 1935 by Endre Bohem, but sat on the shelf until 1990, when his son Leslie Bohem found it upon his father's death. He fell in love with the script, and after updating it for the 1990s, sought to have it finally filmed.
Airheads (1994)
Director: Michael Lehmann
Stars: Brendan Fraser, Steve Buscemi, Adam Sandler
Fun fact about the movie: Brendan Fraser's character was originally supposed to be played by John Cusack.
George of the Jungle (1997)
Director: Sam Weisman
Stars: Brendan Fraser, Leslie Mann, Thomas Haden Church…
Fun fact about the movie: When George is cornering the horses at Ursula's parents' party, the woman that wishes that she could find a man like him is Brendan Fraser's wife at the time, Afton Smith.
Gods and Monsters (1998)
Director: Bill Condon
Stars: Ian McKellen, Brendan Fraser, Lynn Redgrave…
Fun fact about the movie: Sir Ian McKellen said that he felt very comfortable playing the role of James Whale. Like Whale, McKellan is a homosexual British actor, who spent his early career in the theater, and ultimately started a career in Hollywood.
Blast from the Past (1999)
Director: Hugh Wilson
Stars: Brendan Fraser, Alicia Silverstone, Christopher Walken…
Fun fact about the movie: This is the second movie in which Alicia Silverstone and Christopher Walken starred together; "Excess Baggage" (1997) was the first.
The Mummy (1999)
Director: Stephen Sommers
Stars: Brendan Fraser, Rachel Weisz, John Hannah…
Fun fact about the movie: Brendan Fraser nearly died during a scene where his character is hanged. Rachel Weisz remembered, "He [Fraser] stopped breathing and had to be resuscitated."
Bedazzled (2000)
Director: Harold Ramis
Stars: Brendan Fraser, Elizabeth Hurley, Frances O'Connor…
Fun fact about the movie: Elizabeth Hurley wears a total of 19 different outfits as the Devil.
The Quiet American (2002)
Director: Phillip Noyce
Stars: Michael Caine, Brendan Fraser, Thi Hai Yen Do…
Fun fact about the movie: Phillip Noyce wanted Heath Ledger to play the role of Alden Pyle, that in the end went to Brendan Fraser, but was happy with Fraser's work in the film.
Crash (2004)
Director: Paul Haggis
Stars: Don Cheadle, Sandra Bullock, Thandie Newton…
Fun fact about the movie: First Best Picture film since Rocky (1976) to win only three Oscars.
Journey to the Center of the Earth (2008)
Director: Eric Brevig
Stars: Brendan Fraser, Josh Hutcherson, Anita Briem…
Fun fact about the movie: When Trevor lights up the flare and the wall sets on fire because of the magnesium, he's supposed to burn himself. The scene in the movie was the second take of the day and in that take Brendan Fraser did burn himself for real. He was holding the road flare too perpendicular and too close in relation of the wall, so the flames bounced on the wall and blew back to his bare hand. The screams he makes were a mix of real pain and acting. The production was shut down for a few days.