Watch out for Claire Foy this year
You've probably heard about his young lady. The extremely talented and versatile British actress, Claire Foy? Yup… If you've seen even a few minutes from The Crown, you're familiar with what she can do in front of the camera. Right now she's enjoying the success of Unsane- the Steven Soderbegh directed movie that was shot entirely with an iPhone camera, and the reviews about her glowing performance were not too shabby either. But for now let's not look back.
Let's talk about her future projects. Film future projects to be precise. So, when I said watch out for Claire this year, I meant it. She'll be having a busy 2018, and it's frankly awesome. Why? Because she will be presenting 2 awesome new films this year, and I feel that you need to know about them both.
Both films are currently in production right now, and both of them have award winning/box office successes. First things first.  After Noomi Rapace and Roony Mara, Claire was picked to be the news Lisbeth Salander.
Yup that's right. She landed the lead role in Fede Alvarez's directed The Girl in the Spider's Web. The sequel in the  Millennium trilogy is up for a November release and in it she'll be starring opposite Sverrir Gudnason, Stephen Merchant, Vicky Krieps, Sylvia Hoeks and Cameron Britton.
Before Claire Foy was attached to the film, Natalie Portman and Scarlett Johansson, originally considered for the title role in the previous film, were once again in talks to play Lisbeth Salander. Sony also considered Felicity Jones and Alicia Vikander for the titular role, but Claire was ultimately picked.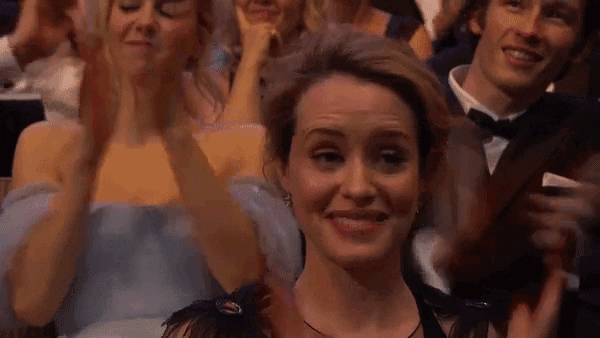 The second movie I'm excited about is First Man. A biopic that checks all of the boxes to be an Oscar darling. It's directed by Damien Chazelle (aka the youngest Oscar winning director ever), it stars Ryan Gosling/Claire Foy and plenty other talented actors, it covers a triumphant event from American history, and it's a biographical drama films about one of the most beloved people in history. Neil Armstrong and his walk on the moon. I mean… it practically has Oscar written all over it.
Claire plays Janet Armstrong, Neil's beloved wife, and it opens in October 2018, but which movie are you most excited for? For me it's has to be The Girl in the Spider's Web. I'm a big fan of the Swedish version, but I'd also love to find out what Claire will do with a specific (non-posh) character like Lisbeth's.
So, watch out for Claire this year. She's got some great movies coming out, and I hope they won't disappoint.