Oh it's just some of Carey Mulligan's best performances
Around 2009, Mark Romanek had a trouble casting the lead in his second directorial effort, Never Let Me Go. He was getting desperate and when Peter Rice, the head of Fox Searchlight was watching An Education at Sundance, he wrote Romanek a four-word text message: "Hire the genius Mulligan."
When later asked why the message was so abrupt, he explained that he was still in the middle of viewing the film, and the rest is history.
She was breathtakingly magnificent in that role, but you can say that about almost every role that she stars in. Her delicate features, soft almost breathless voice and an incredible sheer talent grab you by the throat and don't let go of you or your attention.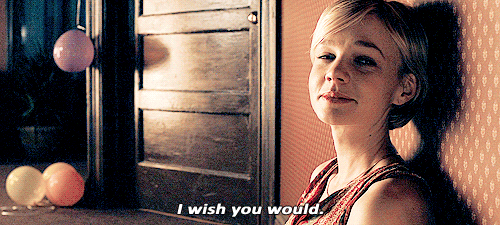 As for me….I've been a fan of Carey since I first saw her in the role of Kitty Bennett in 2005's Pride & Prejudice. Yes, her breakthrough role was in An Education (for which she earned herself an Academy Award nomination), and is yet to be seen in the BBC produced drama Collateral.
I love the fact that she's not tabloid darling and I love the roles she chooses. She's collaborated with the likes of Joe Wright, Jim Sheridan, Michael Man, Oliver Stone, Nicolas Winding Refn, Steve McQueen, Baz Luhrmann, The Coen brothers, Dee Rees and this year with Paul Dano in his directorial debut. So… On the subject of roles… let's look back at Carey's best performances to date.
Pride & Prejudice (2005)
Director: Joe Wright
Stars: Keira Knightley, Matthew Macfadyen, Brenda Blethyn…
Fun fact about the movie: Keira Knightley was preparing for her role in Domino (2005) while she was filming this, and had already cut her hair. She had to wear a wig during the last few weeks of filming and long sleeves to hide her muscles.
Doctor Who (2007)
Episode: Blink
Director: Hettie MacDonald
Fun fact about the episode: The scene wherein the Doctor talks to Sally via a DVD extra was created by writing a conversation, removing Sally's lines, then having David Tennant record his lines. Steven Moffat felt that this one-way filming made the performance more convincing.
An Education (2009)
Director: Lone Scherfig
Stars: Carey Mulligan, Peter Sarsgaard, Alfred Molina…
Fun fact about the movie: Rosamund Pike played Carey Mulligan's older sister in 2005's 'Pride & Prejudice'.
Never Let Me Go (2010)
Director: Mark Romanek
Stars: Keira Knightley, Carey Mulligan, Andrew Garfield…
Fun fact about the movie: "Never Let Me Go" is Carey Mulligan's favorite novel. She was certain someone would make a film adaptation, and had hoped they could wait until she was old enough to play Kathy. She couldn't bear the idea of anyone else portraying Kathy, although she acknowledged that she thought other people would be able to do a better performance. She actively campaigned for the role of Kathy.
Drive (2011)
Director: Nicolas Winding Refn
Stars: Ryan Gosling, Carey Mulligan, Bryan Cranston…
Fun fact about the movie: Carey Mulligan lived at Nicolas Winding Refn's house during her time working on the film.
Shame (2011)
Director: Steve McQueen
Stars: Michael Fassbender, Carey Mulligan, James Badge Dale…
Fun fact about the movie: The scene where Brandon hears his sister sing in the restaurant was shot in real time. James Badge Dale and Michael Fassbender had never heard Carey Mulligan sing before so their reactions were real. The scene was shot at 3 a.m with cameras focused on all 3 performers at the same time.
The Great Gatsby (2013)
Director: Baz Luhrmann
Stars: Leonardo DiCaprio, Carey Mulligan, Joel Edgerton…
Fun fact about the movie: Carey Mulligan was at a fashion awards dinner when she got the call from Baz Luhrmann that she'd won the part of Daisy Buchanan. "I burst into tears in the middle of this room with Karl Lagerfeld and all these people standing next to me," she recalls. "They thought I was mental."
Inside Llewyn Davis (2013)
Directors: Ethan Coen, Joel Coen
Stars: Oscar Isaac, Carey Mulligan, John Goodman…
Fun fact about the movie: This film marks the second time Oscar Isaac and Carey Mulligan have played opposite each other. The first was in Drive (2011).
Mudbound (2017)
Director: Dee Rees
Stars: Carey Mulligan, Garrett Hedlund, Jason Clarke…
Fun fact about the movie: Carey Mulligan and Jason Clarke previously starred both in Great Gatsby.