JJ'S Love And Respect For Keri Russell Lasts 20 Years
You might not have thought so, but it's true. And you've probably heard the news about Keri. According to Variety, she's in final negotiations to portray an undisclosed role in the upcoming J.J. Abrams directed Star Wars – Episode IX.
There are no real details about the role, but the report claims that it will call for "action-heavy fight scenes," which could mean a variety of things. The report also says that Russell was part of a group of several actresses vying for the role, but ultimately, director J.J. Abrams settled on a familiar face for his next film.
And it's no surprise. Their first mutual collaboration started back in 1998, when both of them were relatively unknowns in Hollywood. She was young aspiring actress fresh from a Mickey Mouse Club stint, and he was an aspiring director/producer. It would take a while for both of them to be the leading people in Tinseltown, but it did happen in the late 90's.
And Felicity had a lot to do with it. Keri was just 22 when Felicity first aired on September 29 1998, and JJ was 32 year old show-runner. Felicity was his fist TV series and in the next few years, he would go on and create other successful TV shows. Alias, Lost, Fringe first come to mind.

But their mutual respect and collaboration continued in the mid 2000's, and JJ cast Keri in the role of Lindsey Farris, IMF agent trained by Ethan Hunt (Tom Cruise) in Mission Impossible III. And although it was such a small supporting role, it had huge impact on the story.
So, don't be surprised if love and respect for each other is not the only reason for casting Keri in Episode IX. She just finished playing one of the greatest female characters on TV ever (Elizabeth Jennings) in one of the greatest TV shows that was ever made (The Americans). Through the course of the 6 consecutive seasons, Keri managed to be the leading actress, so many wish to become. She kicked as, she was sassy, she bad bad-ass, she was sexy and determined, and I'm sure JJ paid attention, as we all did.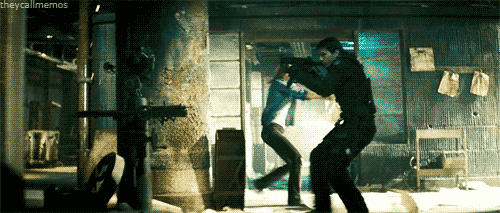 In the end….  it's not just the 20 years of respect, it's not the just a sense of obligation to the star that he discovered, per se. Keri deserved this status and this role with every role that she took. She's one of the most hardworking, talented and charismatic actresses working in Hollywood, and I have no doubt that she'll be amazing in Episode IX.