Homecoming: A Hat Trick For Julia And Dermot
You've probably heard of these two right? Academy Award winner Julia Roberts and Dermot Mulroney. Right. Once we got that settled, I should ask if you haven't seen their latest project together. Homecoming is the name and it's my latest TV obsession to be honest
Based on the podcast of the same name created by Eli Horowitz and Micah Bloomberg, Homecoming is a psychological thriller web television series with Julia in the role of Heidi Bergman. A caseworker at Homecoming, a Geist Group facility helping soldiers transition to civilian life.
Years later she has started a new life, living with her mother and working as a waitress, when a Department of Defense auditor questions why she left the Homecoming facility.
Homecoming also stars Bobby Cannavale, Stephan James, Shea Whigham, Alex Karpovsky, Sissy Spacek, and all of the 10 episodes are already available on Amazon. All of the episodes are directed by the series creator Sam Esmail, and I just finished the first episode last night before I realized that I'm doing a cardinal sin.
I'm watching a great TV show without my man. He was working night shift last night, so I had to restrain myself and not going binge crazy on this show. Cause you know… I love the man, and he'd do the same for me, I'm sure.
Now, I'd probably have more posts about the show, after I sink my teeth in it and start watching it properly…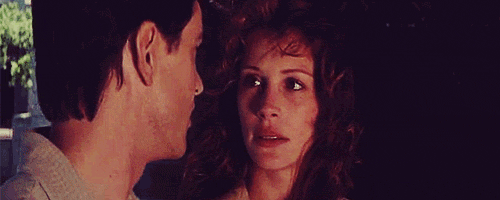 But for now, I'd like to take a trip down memory lane and remind you of two previous projects that Julia and Dermot made. Unlike Homecoming, the previous two projects of this hat trick are movie projects, with two different genres and 2 different stories.
The first is My Best Friend's Wedding, from waaaay back when Julia was the queen of rom coms. Seriously. This is a precious little gem for various reasons, but mostly is because the actors incredible chemistry. Julia Roberts hand-picked both Dermot Mulroney and Cameron Diaz for this film, and the rest is history.
16 years later they both collaborated on another amazing but very much different film. August: Osage County. The John Wells comedy drama had pretty amazing cast to be honest. There were a lot of heavy weights in this picture, and that just added to the overall quality. Ewan McGregor, Chris Cooper, Abigail Breslin, Benedict Cumberbatch, Juliette Lewis, Margo Martindale oh and the one and only Meryl Streep.
Julia and Meryl both were nominated for an Academy Award (for lead and supporting role) and they both lost, but they were outstanding. Surprisingly so was Dermot, who played Steve Huberbrecht, a sleazy Florida businessman.
So yeah.
If you'd like to binge with me and Martin on Homecoming in the next few days, I'd be delighted. If TV is not your thing, but you want some great movies to watch with Dermot and Julia, make sure to check out My Best Friend's Wedding and August: Osage County.