Hey Disney! Let Carrie To Rest In Peace !
Seriously… Just let her to rest in peace.
You've probably heard the news. The cast and crew of the upcoming Star Wars-Episode IX was announced.
Returning cast members include Daisy Ridley, Adam Driver, John Boyega, Oscar Isaac, Lupita Nyong'o, Domhnall Gleeson, Kelly Marie Tran, Joonas Suotamo, and Billie Lourd. Joining the cast of Episode IX are Naomi Ackie, Richard E. Grant, and Keri Russell, who will be joined by veteran Star Wars actors Mark Hamill, Anthony Daniels, and Billy Dee Williams, who will reprise his role as Lando Calrissian.
The role of Leia Organa will once again be played by Carrie Fisher, using previously unreleased footage shot for Star Wars: The Force Awakens. "We desperately loved Carrie Fisher," says Abrams. "Finding a truly satisfying conclusion to the Skywalker saga without her eluded us. We were never going to recast, or use a CG character. With the support and blessing from her daughter, Billie, we have found a way to honor Carrie's legacy and role as Leia in Episode IX by using unseen footage we shot together in Episode VII."
Why? What's the point of Leia's return to the franchise? Look. Mark, Anthony and Billy Dee are very much alive and very much grown ass men that are capable of making their own choices and decisions. Frankly, I'm a bit surprised to see Mark Hamil back in Episode IX, after the months and moths of him expressing his resentment and disagreement about the direction of his character Luke Skywalker in The Last Jedi.
Sure Luke's fate in The Last Jedi was left ambivalent and open for many possibilities, so I guess reviving him to complete the latest trilogy is one of those possibilities. To each their own I guess. I can't judge him nor I can't call him a hypocrite. Who knows… Maybe he's finally happy with JJ Abram's ideas about his character in Episode IX and that's the reason he joined the cast once again. Maybe It's just money… but I can't say that I blame him for that. It's his job and whatever the reason for this decision may be, we need to respect it.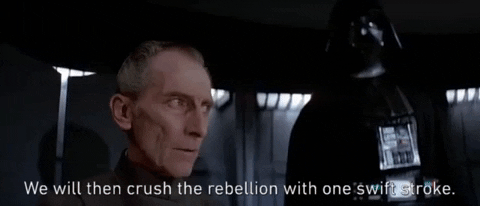 And yes…  I'm very well aware that it's not going to be a unprecedented move. Peter Cushing's character Grand Moff Tarkin was brought to life in Rogue One thanks to a CGI and previous footage. It fit (since the actor died in 1994), but he was a very supporting character and his role was very small in Rogue One. Leia Organa's role in the franchise is not that small, although she's been demoted to a smaller and smaller screen time even when she was alive.
I get that Billie Lourd wants to keep her mom's legacy by keeping her character alive. I get that. That's why she gave her blessing for this movie. But how much of an impact could Leia have now that Carrie is gone? She'll be probably be relegated to a 5 minute cameo, or in the best case scenario, a few scenes that would get a cheer from a nostalgia in the movie theater. And some tears to… Cause we all miss Carrie. But I don't see the need for all that unnecessary and very expensive hustle to happen. Time will tell I guess…
I hope Disney, Lucasfilm and JJ honor her for the right reasons. Not just nostalgia and money. And if the latter is the case, it's better to leave her alone.
Star Wars: Episode IX will begin filming at London's Pinewood Studios on August 1, 2018, and the release is scheduled for December 2019.