Henry Rollins tried to warn us about Tarantino years ago
You've probably heard the news. Uma Thurman opened up about her alleged abuse from coming from Harvey Weinstein, and she also revealed the footage of the on-set injury that she sustained while filming Kill Bill.
She blamed the film's director Quentin Tarantino for not taking safety very seriously and for forcing her to do a dangerous driving stunt when she wasn't comfortable doing it. She reportedly is still suffering and deals with the consequences of that injury, but apparently forgave him and moved on with her life.
But I want to take another (different) look at the 2 time Academy award winner. Yeah i'm talking about Quentin Tarantino. More precisely on collaboration between him and the actress after that accident, when the two of them had to promote the movie. Well, that different look is through the eyes of Henry Rollins.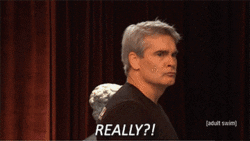 According to an older spoken word live performance, Henry and his friend writer/director Adam Rifkin attended the LA premiere of Kill Bill. The event was held at the Chinese theater in Hollywood and what happened after they set foot in the theater will be best explained by Henry himself.
Yup.. You should check out this video and see for yourself why Henry Rollins tried to warn us about what kind of a man Quentin Tarantino really is. How he treats hot just his leading ladies (in this case Uma Thurman) and also his audience.