90's Jumanji is a masterpiece … and no other movie will come close to that
There is not a single 90's child that doesn't know the movie, cause we all grew up with it. Even in a tiny Eastern European forsaken country (like the one i grew up in), even now in 2017 you can go ahead and ask people that are my age and they'll all know what i'm talking about.  I'm talking about Jumanji of course. The fantasy adventure film directed by Joe Johnston is still a childhood classic, and despite the fact that there is a standalone sequel coming out to theaters this year (called Jumanji: Welcome to the Jungle), the original movie will forever be the greatest.
That is not to say that I want Jumanji: Welcome to the Jungle to fail. Sure I want the movie to be a success both at the box office and with the film critics, mostly because I want the younger generations to have a growing up film experience as we did in the 90's.
The second reason I want Jumanji: Welcome to the Jungle to succeed is because there are plenty of people in the cast that admire and respect. Karen Gillian, Kevin Hart and Jack Black first come to mind and then the ultimate action hero Dwayne Johnson in the main role of course. I'm not a big fan of Johnson's work myself but my boyfriend is practically in love with him. Sometimes even more than he should be hahaha.
So… The first trailer for Jumanji: Welcome to the Jungle was officially released this week and in the first 3 days since being on line, the trailer has gained over 34.000 dislikes. And although the movie is officially called stand-alone sequel to the 1995 film Jumanji, some of the comments were directed at the similarities between the 2 films, and how the latter movie more or less a remake of the original with different more modern setting and different actors. Jumanji: Welcome to the Jungle opens of December 20 of this year, but what makes the 1995 movie a timeless classic?
Well for starters, it transcended age when it came to the audience's entertainment. The movie had two grown up actors in the two grown up roles (Robin Williams and Bonnie Hunt) and two child actors (Kristen Dunst and Bradley Pierce) in the kid roles. And every so often, the grown up characters would act out and be immature, while the child characters were composed, mature and well behaved. A decision that played well in the comedic department i must say.
Secondly, and I cannot emphasize this enough, but Jumanji had Robin Williams in the role of Alan Parrish. A man trapped in the game for 26 years and thus spending his youth in a jungle like environment.
To say that Robin was good here, would be an understatement. He was phenomenal. Energetic, funny (of course) caring, sometimes with childlike abilities but knowledgeable of every step ahead of the game. I should mention that the physical comedy of Williams was also on point, but so was from the rest of the cast. In fact… while Williams was shooting Jumanji, he was also shooting his small role in Nine Months at the same time. That's commitment dude!
Kirsten Dunst and Bradley Pierce were also great as the orphaned Sheperd siblings. Their grief about losing their parents was present throughout the entire plot, and its one of the more realistic representations of grief on screen. It was subtle. It would pop up out of nowhere during the smallest darn inklings of a memory to the loved ones, and it made their story even more touching.
And yes… Roger Ebert was right for saying (in his film review) that the movie was too scary for children. Hell… even Robin wouldn't let his children watch Jumanji, but it didn't bother to me in the mid 90's. I thought it was great and my parents allowed me to watch it over and over again. Hell i even watched it with my mom at one point.
But regardless for being scary and sometimes too realistic (thanks to great makeup and, visual effects, and fantastic set design) it was fun and entertaining to watch from the first minute right until the 104th. You see so few movies today are fun and entertaining. In the abundance of genre mixing, reliance on VFX and relying of star power to carry the movie (and make it good), Jumanji had the movie to make it good. Robin, Bonnie, Kristen and Bebe Neuwirth were just there for the ride.
Back in 2005 Jumanji was listed 48 in Channel 4's 100 Greatest Family Films just behind Dumbo and Spider-Man and why it shouldn't be? Maybe it's the nostalgia for the 90's movies or the fact that I miss seeing Robin Williams in movies, but I think Hollywood is relaying too much on style and not on substance now. The 1995's Jumanji had action, emotional drama, great plot progression, developed characters, tension, scary creatures and great cast lead by the one and only Robin Williams.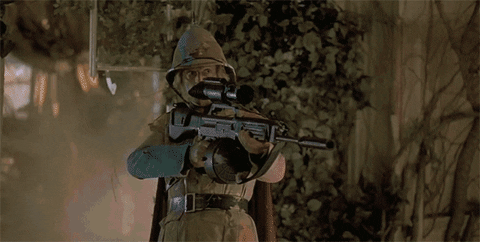 Jumanji is truly a masterpiece, and probably no other movie will come close.  I'm fine with that, but I do hope Jumanji: Welcome to the Jungle will be at least enjoyable to watch come December.
Official synopsis for Jumanji: Welcome to the Jungle:
When four high-school kids discover an old video game console with a game they've never heard of – Jumanji – they are immediately drawn into the game's jungle setting, literally becoming the avatars they chose: gamer Spencer becomes a brawny adventurer (Dwayne Johnson); football jock Fridge loses (in his words) "the top two feet of his body" and becomes an Einstein (Kevin Hart); popular girl Bethany becomes a middle-aged male professor (Jack Black); and wallflower Martha becomes a bad ass warrior (Karen Gillan). What they discover is that you don't just play Jumanji – you must survive it. To beat the game and return to the real world, they'll have to go on the most dangerous adventure of their lives, discover what Alan Parrish left 20 years ago, and change the way they think about themselves – or they'll be stuck in the game forever…