Before Sharp Objects There Was Julie & Julia
If you're a huge fan of HBO's Sharp Objects (like i am) than you're probably fan of the actors in the amazing TV series. Sophia Lillis, Patricia Clarkson and of course the two lead actors. Amy Adams and Chris Messina.
Adams plays Camille Preaker, an alcoholic reporter assigned to investigate and report on the recent murder of 2 young girls in her home town, Wind Gap Missouri. While her co-star Chris Messina is Detective Richard Willis. A detective from Kansas City who is aiding the investigation. The performances from almost everyone in the cast (and especially Clarkson, Adams and Messina) is outstanding, and so is the darker tone or the narrative in the story.
I also love the slow pace in which their potential love story is being developed. They're doing the exact thing (investigating), but with different tools, and they're both terrified that they'll reveal something they're not supposed to. They're also loner type of people, and while Camille is far more damaged than he is, i can see how they could (and should) end up together.
But before Chris and Amy became part of Sharp Objects (almost a decade ago) they were part of another great project. Messina, 43, played Adams' husband in "Julie and Julia" — the 2009 big-screen Nora Ephron comedy about a blogger who makes it her mission to cook all of Julia Child's recipes — and the two became good friends.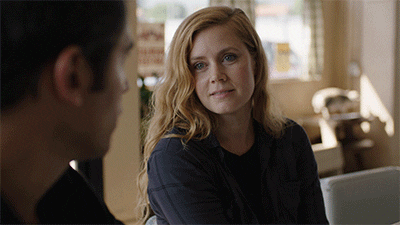 Accodring to Adams, they had such a great time collaborating on the Julie & Julia set, that she had to persuade director Jean-Marc Vallée to meet with Messina about the role of Richard Willis.
"I came in and read and still it wasn't a done deal. And [Adams] really pushed for me to get the part.  "I think she wanted someone around her — and there are several of us — that she trusted and felt comfortable with as she had to go to these extreme dark places.", said the actor about the casting process in Sharp Objects.
Oh…. And if we take another look at Chris Messina's collaboration, he and Patricia Clarkson previously starred together in Vicky Cristina Barcelona (2008). while Chris Messina and David Sullivan previously starred together in Argo (2012). Amazing right?