The Defenders's second trailer offers more food and action… and I love that
August (and especially 18th of August) is just around the corner (well it is for me 🙂 ). Frankly  18th cannot come soon enough… cause that is the date for The Defender's premiere and oh boy… i look forward to that one.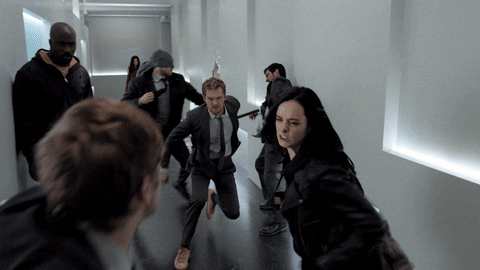 Marvel's latest project airs on Netflix on 18 August, with 8 tightly packed episodes, and for the first time we'll be able to see the 4 superheroes all in one place. Hell's Kitchen. With some old enemies (Élodie Yung's Elektra Natchios and Jon Bernthal's Frank Castle) and some now ones (like Sigourney Weaver's merciless villain Alexandra), the four characters will have to defend Manhattan, once again but this time with team effort.
Blind ninja. Smart-ass detective. Bulletproof ex-con. Kung Fu billionaire. Marvel's The Defenders centers on four outsider heroes that have to put aside their personal issues and come together when a villainous sect threatens to destroy New York City as we know it. "The Defenders" stars Charlie Cox, Krysten Ritter, Mike Colter, and Finn Jones as the titular team, while Rosario Dawson, Rachael Taylor, Jessica Henwick, Deborah Ann Woll, Carrie-Anne Moss are also part of the cast once more in supporting roles.
The first 2 episodes are directed by S. J. Clarkson, but up until August 18, check out the second action packed trailer for The Defenders.