The actor with sooooo many faces
You know him by many faces, shapes and sizes. You also know him by many non-human creatures and non-human names. But his real human name is Doug. Doug Jones, and although you may have seen many of those fictional faces, shapes and sizes in movies and on TV, there is an immense real talent that comes with that 6''3' tall frame  and i need to address it. You know… for those of you who haven't heard of Doug.
Incredibly talented and revered by his peers for his physical performances, he's been a staple in most of Guillermo del Toro's movies, most notably Hellboy, Pan's Labyrinth and in this year's Cannes winner, The shape of water. Actually Doug learned mime at college and he sneaked that particular form of expressionist art in his acting, and you can thank those mime courses for setting him up on a path of artistic excellence.
And yeah… most of the characters he portrays require up to 6 hours of prosthetics and make-up applying, but Doug  also performed as 'himself' in such highly-rated films as Adaptation (2002) with Nicolas Cage and indie projects such as Phil Donlon's A Series of Small Things (2005).
But did you know that Doug Jones has been a steady presence on the small screen as well? Yup. The Neighbors, Falling Skies, The Strain (another Del Toro project) and from this week, Star Trek- Discovery are also in his C.V. Jones in the new Star Trek series, is Lt. Saru- a Science Officer serving as a lieutenant aboard the Discovery, and the first Kelpien to enter Starfleet. Kelpiens, a new species created for Discovery, were hunted as prey on their home planet and thus evolved the ability to sense the coming of death. They have a reputation for cowardice in the Federation.
Interesting fact about Mr. Jones is that many years ago, i personally contacted him and requested an interview via e-mail (for the medium in which i was working at the time), but he declined in the most polite and loving way. I'm not holding a grudge ahaha, but if Doug or someone of his representative team is reading this, i'd like to try again with another inquiry.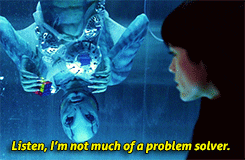 But let's look back at Doug Jones's earlies role that required heavy makeup and extensive prosthetics. Shall we?
Batman Returns – 1992
Director: Tim Burton
Hocus Pocus – 1993
Director: Kenny Ortega
Warriors of Virtue – 1997
Director: Ronny Yu
Hellboy -2004
Director: Guillermo del Toro
Pan's Labyrinth – 2006
Director: Guillermo del Toro
Fantastic Four: Rise of the Silver Surfer – 2007
Director: Tim Story
Hellboy II: The Golden Army – 2008
Director: Guillermo del Toro
The Bye Bye Man – 2017
Director: Stacy Title
The Shape of Water – 2017
Director: Guillermo del Toro
Falling Skies 2013- 2015
The Strain 2014-2016