It's OK not to feel like a princess on your wedding day
I stand by it, as I firmly believe that there are many other women like me, despite what the society and the media would have us convinced.
So… As I previously mentioned and detailed in several other posts, I'm engaged to be married to the most wonderful man I know. While me and my fiancée are pretty relaxed about the whole thing and we are in no rush to make any wedding plans, but I must confess that I've recently started looking at the bridal gowns.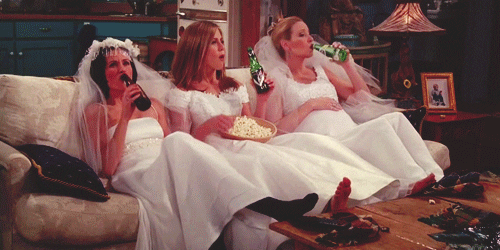 Well, since I've never imagined how my wedding would be, and how my gown would look like I decided to explore the two rational ways that one future bride can find a dress (at least where I live). To shop in bridal saloons and to get a seamstress/designer to design and sow a dress.
The first is apparently a no no for now, mostly because of the limited variety in style and the high prices of those gowns, so I figured a designer would be a way to go. A third option is to order the gown on line, but I have a huge distrust in the delivery, since my Star Wars waffle iron was not delivered (at all) recently by Amazon, let alone my wedding dress.
But the most important reason I'll go for designed dress is like I've mentioned the lack of style diversity. Apparently all the brides in my town will look like Princess Diana from what I've seen so far. Why is that the big ball gown princess-y dresses are the only choice? They are mostly strapless but sometimes sleeves are involved and I was unpleasantly suppressed by this discovery.
I'm fully aware that most of the brides love that princess-y feel on their wedding day, but there are some of us who don't and that's OK. It really is and we should not feel ashamed about it.
Unlike Monica Geller (yes Friend's Monica) I've never had a future wedding book portfolio, unlike all the brides I've seen on Say yes to the dress, I do not like extravagant expensive ball gown, and most importantly I don't want to feel like a god damn princess.
I've seen the posts before. In bridal magazines, fashion magazines and on social media.
How To Feel Like A Princess On Your Wedding Day
…or 5 WEDDING DRESSES TO MAKE YOU FEEL LIKE A PRINCESS
…or Feel like a princess on your special day
…. or Feel like a Disney princess on your special day
I blame Hollywood, and Disney, and the entire bridal industry for this.
No. I'm going with simple yet elegant retro style midi length dress with quarter length sleeves and almost no embroidery, sequins or any other glitter on the material. Maybe a white pearls or subtle flower crown and that's it. Very dignified, stylish and romantic. Which it is to be honest. You can be romantic bride even without the big ball gowns and crystals, only if you try a little harder.
Oh.. in the end….This is never going to be ME!