Die Hard At 30: Fun Yet Useless Facts About The Action Classic
Hey Die Hard fans! Are you ready for the big 3-0? Yes, one of the best action movies of all times turns 30 this month. On July 20th 1988, one 28 million dollar movie, directed by John McTiernan was released in theaters, and it started something big. It started the Die Hard film franchise, that would go on to continue for 4 additional movies, and it would catapult Bruce Willis to the A-list of Hollywood. Die Hard also made him a bona-fied action star at the age of just 33, and the rest is history.
Up to this point, Willis was mostly known for his leading role in the comedy-drama television series Moonlighting (opposite Cybill Shepard), and was not having a great time during the production. The rating dropped dramatically in the last 2 seasons, and his relationship with his leading lady was not that great either.
And then came John McClane. probably the greatest fictional cop since Kojak. Die Hard actually follows off-duty New York City Police Department officer John McClane (Bruce Willis) who is caught in a Los Angeles skyscraper during a Christmas Eve heist led by Hans Gruber (Alan Rickman). It is based on Roderick Thorp's 1979 novel Nothing Lasts Forever, the sequel to 1966's The Detective, adapted into a 1968 film of the same name starring Frank Sinatra.
Fox was contractually obligated to offer Sinatra the lead role in Die Hard, but he turned it down; after Arnold Schwarzenegger declined to shoot the film as a sequel to his 1985 action film Commando, Fox reluctantly gave the role to Willis, then known as a comedic television actor. Die Hard was made for $28 million, but grossed over $140 million theatrically worldwide. Initially received mixed reviews from critics, although it garnered acclaim in later years and now holds 93% positive approval on Rotten Tomatoes.
The film was nominated for four Academy Awards, and later on spawned four sequels: Die Hard 2 (1990), Die Hard with a Vengeance (1995), Live Free or Die Hard (2007), and A Good Day to Die Hard (2013). In 2001, Die Hard was listed at #39 on AFI's 100 Years… 100 Thrills, a list of America's most heart-pounding films, and in 2003, Hans Gruber was listed at #46 on the AFI's 100 Years… 100 Heroes and Villains list.
So, in honor of the 30th anniversary of Die Hard, let's look back t some of the films fun yet useless facts.
Bruce Willis favorite role has always been John MCclane.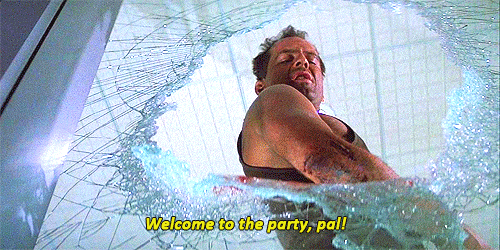 Bruce Willis received a then-unheard of five million dollars, a fee that was approved by Fox President Rupert Murdoch.
Only a couple of the actors who played the German terrorists were actually German and only a couple more could speak broken German. The actors were cast for their menacing appearances rather than their nationality. 9 of the 12 were over 6 feet tall.
The scene where Bruce Willis and Alan Rickman meet up was unrehearsed to create a greater feeling of spontaneity between the two actors.
In the spring of 1987, producer Joel Silver and director John McTiernan attended a performance of the play Dangerous Liaisons, in which Alan Rickman played the evil Vicomte de Valmont. Immediately, Silver and McTiernan realized they had found Hans Gruber.
Bruce Willis was also shooting Moonlighting (1985) concurrently. Willis would shoot his television series during the day, and then come to the Fox lot in the evening to work on this film.
Ironically, Bruce Willis, sneered at for being an all-American hero by the head German terrorist, is actually more German than most of the villains; Alan Rickman was English and Alexander Godunov was Russian. Bruce Willis was born on March 19th 1955 in West Germany to an American father and a German mother.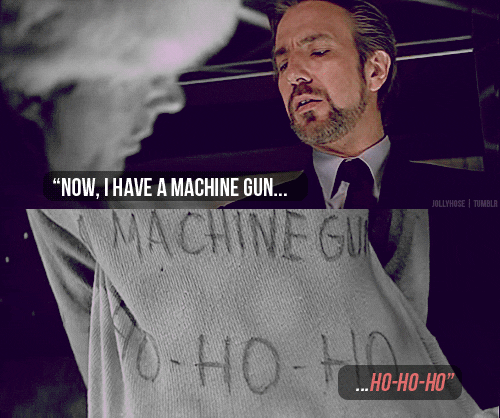 The line "Yippee-ki-yay, motherfucker!" is used in all Five Die Hard movies (this one, Die Hard 2 (1990), Die Hard with a Vengeance (1995), Live Free or Die Hard (2007), (although a gunshot masks the 'fucker' part in the PG-13 cut, it is heard in the unrated version) and A Good Day to Die Hard (2013)). It also translates in Urdu to "here eat this." The line was voted as the #96 of "The 100 Greatest Movie Lines" by Premiere in 2007.
This was the feature film (and Hollywood) debut of Alan Rickman, who had previously only appeared onstage and on British television. Rickman was 41 at the time. As such, he was nervous about how his first Hollywood role would go over, but his outstanding success as Hans Gruber secured a lucrative career in American film.
Bruce Willis and Demi Moore tied the knot at the Golden Nugget hotel in Las Vegas during this shoot, Moore, having recently broken her engagement to Emilio Estevez. Little Richard presided over the ceremony, and former Brat Pack member Ally Sheedy was a bridesmaid.