Adam Sandler is an early Oscar contender and I love that
There is a and older Buzzfeed video (about the fit of strapless bras on plus size ladies) in which one of the employee says…
Just like we've all given up on Adams Sandler movies, I've given up on strapless bras.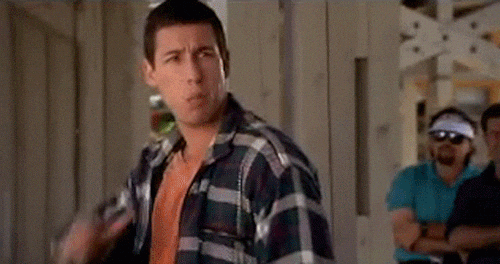 That's the point. We've all given up on his movies. There are handful of quality movies in Adam's career in the last 15 years, and to be honest after so many flops there is a bit of trepidation when it comes to watching his movies. But here is the key sentiment here. His poor choices in movies sucked. Not Adam Sandler to be honest. He just got lazy, greedy and gave up on bettering his career.
The talent both for comedy and drama was always there. His choices were more than sketchy, however I think there is one thinks that stood out in his career, more that his picks in projects. His pick in directors.
Sandler is currently enjoying a renaissance in his career thanks to Noah Baumbach's new comedy/drama The Meyerowitz Stories (New and Selected), and not only the movie received a 4 minute standing ovation at Cannes (according to Irish Independent), there is a serious Oscar buzz around the actor (as suggested by USA Today). Sandler in The Meyerowitz Stories (New and Selected) shares the screen with fellow actors Ben Stiller, Adam Driver, Candice Bergen and double Academy award winners/legends Dustin Hoffman and Emma Thompson but his performance is the one that stands out from the abundance of talent around him.
Why is that?
Well if you look back at his career in those 15 years I mentioned above, you will find the quality stuff to be written or directed (or both) by the most talented auteurs working in Hollywood. Let's start with Punch-Drunk Love. Paul Thomas Anderson's romantic comedy/drama was a turning point for Sandler's career 15 years ago. The performance not only won him a Golden Globe nomination, it showed the unexpected layers in his talent as a performer in drama more so than in comedy (the genre he was most known for up until then). Then in 2009 came Funny People. Comedy drama written and directed by Judd Apatow. The film and Sandler's performance were polished with layer upon layer emotional depth, growth and yet again surprisingly grown up tone not usually associated with Sandler.
That leads me to this years The Meyerowitz Stories (New and Selected). Although the release date for premiere is yet to be announced, Baumbach is already gaining praise for his latest project in Europe. And while Ben Stiller collaborated with Baumbach on several other films (While We're Young, Greenberg to name a few) it's a first for Sandler and the talented director.
What all of the previously mentioned films in Sandler's career have in common? Great writers/directors. Paul Thomas Anderson, Judd Apatow and Noah Baumbach found a way to utilize Adams's talent like no other filmmaker did before or after. It's not just about the source material that lies in the good scrip. It's not just the company that one actor keeps surrounded with great colleagues on set. It's the guidance that directors bring to those actors on set. Only great director can make a god actor even better.
I'm happy for Adam Sandler's Oscar Buzz. Even though it's too early to say, I'll be happy if 50 year old actor gets a nod at the beginning of the next year. Most of all, I think his fans (myself included) are most happy that they have Adam back. The Adam that we all know and love is back.