The Big Sick Film Review
Kumail Nanjiani became a creative force to be reckoned with. The Silicon Valley star was the toast of the town at Sundance (this January) with his latest movie The Big Sick, and the movie is finally out in theaters.
Yeah… i know that the premise of The Big Sick sounds a bit unbelievable, but it's actually a delightful and funny film version (written by Kumail himself and his wife Emily Gordon) of how he fell in love with his now wife. While she was in medically induced coma (i kid you not).
Kumail (played by Kumail Nanjiani) is aspiring stand-up comedian, working as a part time cab driver in Chicago. His family is relentlessly trying to arrange a marriage for him, much to his annoyance but after one of his performances he will meet and start dating (very white) Emily Gardner (Zoe Kazan). After a big fight, they'll brake up, but will be abruptly reunited by the "big sick". Emily gets sick, and the method of diagnosing and treating her is to put her in medically induced coma. Her parents Terry (Ray Romano) and Beth (Holly Hunter) fly to Chicago to be with her, but they eventually bond with Kumail in the hospital.
The Big Sick is a great movie. Funny, emotional honest and warm, it's a movie that does not put the two central figures on the spot like in so many other romantic comedies. You know… when the screenwriters center their world around them, and everything kinda feel like a prop. No, because Emily is in a coma in a large chunk of the movie, Kumail is left to bind the pieces of their lives with everyone around him. And he does that in the most charming way possible. He's kind, funny, nerdy and sometimes sarcastic and you can see that he's drawing from his own material here. He and Zoe might not have the best chemistry on screen, but I can see why she was the choice for this role. Their charm of Zoe and Kumail coupled with their comedic timing is fantastic here and it clearly shows in their scenes together.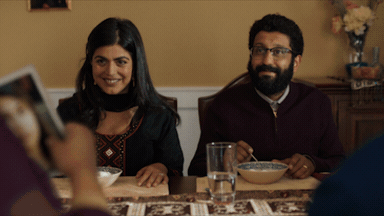 But like I said this is romantic comedy assemble, and the contribution from the supporting cast is the key factor for the movie success. I'm of course talking about the presence of Ray Romano and Academy Award winner Holly Hunter. They are absolutely brilliant as Emily's parents, and I certainly appreciate their back story in the Big Sick. Instead being just two bickering parents, they are actually portrayed very realistically. With their flaws, problems, and sometimes prejudices. Their marital problem adds structure and weight in their backstory, but if we speak in parent's terms Kumal's parents are equally realistically portrayed.
Brought up by Pakistani Muslim parents, Kumail was more actuate in their depiction I thought. I also loved how the dominant theme in the subplot is his mom's meddling to arrange a marriage for him. She was relentless and funny at the same time in her agenda, but if you look at his family as a whole, Kumail actually described a majority of Muslim immigrant families living in USA. Their generation has stayed culturally the same (as they were in the country they came from) and they instill the same strict customs and moral codes into their children despite the fact that they all live in USA. The fear of disownment and shaming from his family is very real with Kumail, even though he's a grown man. And I'm glad he didn't neglect to mention this in his script to be honest.
Are there any flaws in this movie? Yes, of course. Despite being very good and honest about the culture clashes and expectations in them, The Big Sick with its 124 minutes of running time is a bit too long for a romantic comedy. And maybe this wouldn't have been a too big of a problem it sometimes the pacing wouldn't be overbearing and the development a bit repetitious. The addition of Kumal's stand up colleagues is wasted as they don't contribute much to the movie. It is such a shame cause in those roles are some of the most talented comedic actors working today. I'm talking about Aidy Bryant and Kurt Braunohler for instance. But if you take a look back even in Funny People (another Judd Apatow produced movie) Jason Schwartzman, Aziz Ansari and Aubrey Plaza also didn't do much for the movie as well.
But overall The Big Sick Film is finely directed, brilliantly written and charmingly acted original movie from Kumail Nanjiani. You might now be moved by the passion, romanticism of the love story, but you would be moved by the characters (and I mean everyone) in it.