Some fun (and useless) facts about True Lies… before the TV pilot comes along
Yup… You've probably heard the news. There will be True Lies TV series pilot, and probably sans Arnold Schwarzenegger and Jamie Lee Curtis.
As reported by THR, Fox is developing a True Lies TV project, and for now is pilot commitment only order by Fox. Marc Guggenheim is expected to pen the script, and the writer/director of the 1994 movie, James Cameron will serves as an executive director. If the pilot is picked up, McG is on board to direct the pilot episode.
20th Century Fox was the N. American distributer of the 1994 movie, and the James Cameron classic was a remake itself. It was a film adaptation of La Totale !, the 1991 French film, but while we wait for the pilot (and hopefully a full season order) of True Lies the TV series, let's look at the awesome and yet so useless facts about the 1994 movie.
True Lies was met with critical and financial success, after the release in the summer of 1994. It was filmed over a seven-month schedule, and although there were talks and plans for a sequel, after September 11th, they were abandoned sometimes in 2002, with Cameron saying terrorism was no longer something to be taken lightly.
But what more can be said about True Lies… facts wise?
The set of bra and matching panties worn by Helen Tasker during the striptease scene were Jamie Lee Curtis' own. Additionally, the fall that she takes in the middle of the dance was unscripted, and that is hinted at when Harry sits up in alarm, then relaxes.
Arnold Schwarzenegger's biggest challenge for the movie was not doing all the physical stunts, but dancing a tango. He had to take dancing lessons to realistically perform the dance. He rehearsed the dance scene for about six months. He wanted to make sure he was as good at the tango as Al Pacino was in Scent of a Woman (1992).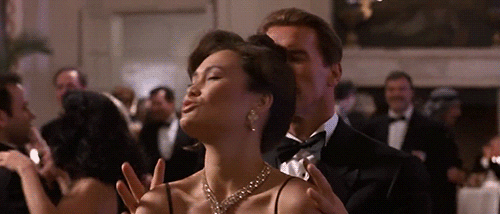 The US Government supplied three Marine Harriers and their pilots for a fee of $100,736 ($2,410 per hour).
James Cameron can be heard as the helicopter pilot who says, "Yeah she's got her head in his lap, Yahoo!"
Helen was originally going to go nude in the striptease scene, but the idea was dropped, and Jamie Lee Curtis kept her underwear on during it.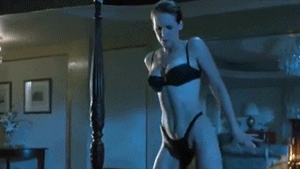 Jodie Foster was originally cast as Helen Tasker, but was forced to turn the role down because she was signed to Nell (1994).
Tom Arnold said this is his favorite movie he's ever been in.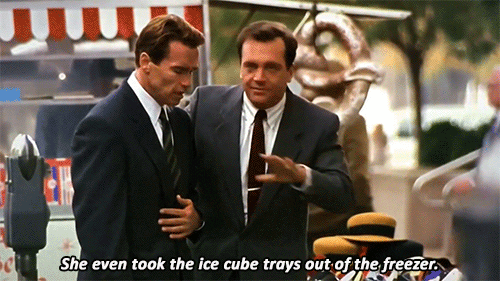 James Cameron had wanted to work with Jamie Lee Curtis ever since seeing her in A Fish Called Wanda (1988).
Jamie Lee Curtis called the film "without question, the greatest experience of my professional life so far."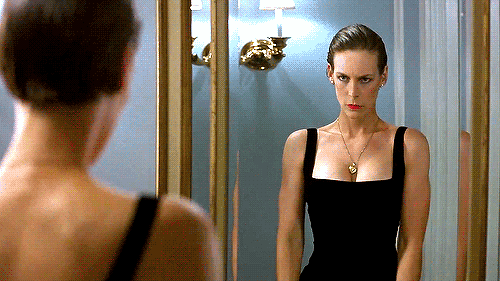 The role of Helen Tasker was written for Jamie Lee Curtis, even though a lot of actresses auditioned for it.
The Swiss chateau is really two different mansions in Newport, Rhode Island. One of them was also featured in The Great Gatsby (1974).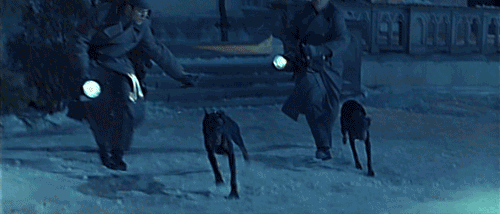 Jamie Lee Curtis was directed by Kathryn Bigelow, James Cameron's future wife, in Blue Steel (1989).
James Cameron was going through a divorce from Kathryn Bigelow around the same time as filming this movie.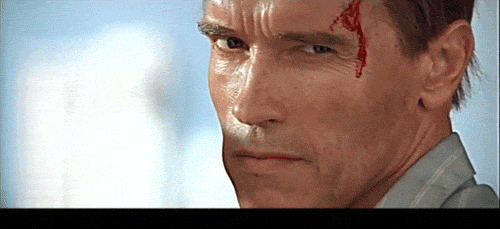 Tia Carrere named this as her favorite role of all time "because I got to be a villain."