She-Devil is true feminist masterpiece and no one can tell me otherwise
All right now. You may have heard about this lady. Comedienne, writer, talk show host, actress and an ex-presidential candidate (yup for the president of USA). I'm talking about Roseanne Barr of course.
Well, this lady is back where she belongs. On TV, with a very familiar sitcom and very familiar role. Roseanne was revived for a new 10th season by ABC, and it aired this week to a surprisingly strong ratings and very positive reviews.
More than 2 decades after the original sitcom finale aired, the matriarch of the Conner family is snarkier than ever, but for now, I'd like to discuss one particular movie project of Roseanne that is dear and close to my heart.
She-Devil. Directed by Susan Seidelman, Shed-Devil is my guilty pleasure and childhood feel good movie, but now as I grow older, I can actually appreciate the impression that the movie had on me. It was feminist as it was hilarious. The movie had 2 Academy award winners (Linda Hunt and Meryl Streep) and it represented everything that embodied the 80's. Optimism, opulence, and lots of shoulder pads.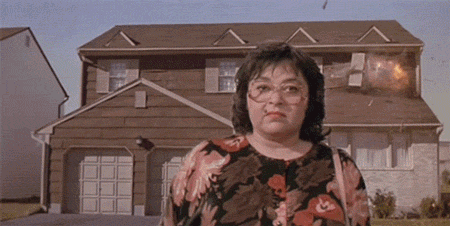 I also loved how campy and over the top the movie was, but it actually was a loose adaptation of "The Life and Loves of a She-Devil" by Fay Weldon and if you recall, Roseanne and Meryl had just one scene together in the entire movie. At the very beginning of the movie .
She-Devil opened just a couple of months after the pilot episode of Roseanne aired and although it wasn't a success like the TV sitcom, it did managed to gain both a gay and cult following. Seriously. There are enough Buzzfeed articles devoted to this movie to support my claims.
And although on the surface, it may seems that the movie is for one abandoned wife's revenge to her cheating husband… frankly it's so much more than that. It's a message for a female empowerment. How 2 grown and down on their luck women can succeed together and make something of themselves after being forgotten by the society around them. They were put down, belittled and depressed both in their private and professional lives, but together not only found a way to help themselves, they also helped many other women in the process.
I guess Roseanne Barr was way to busy and preoccupied with Roseanne, in the decade that followed and her film efforts were not that remarkable afterwards. However. She-Devil stood the taste of time, and is still relevant today as it was almost 3 decades ago. It's a god damn feminist masterpiece and no one can tell me otherwise.