RIP Stan Lee: The Original Superhero
Today is a sad day for every true comic book fan. The comic book and Marvel legend Stan Lee, passed away at the age of 95.
The titles Lee authored included those featuring Spider-Man (with artist Steve Ditko), the Hulk, X-Men, Iron Man, Thor, Daredevil, Captain America and the Avengers — all of which have been turned into major features over the years.
Besides being a comic-book writer Lee was also an editor, film executive producer, actor, and publisher, and before starting his comic book career he served in the US army.
In his "golden years" Stan Lee was known for making a brief cameo roles in the various Marvel projects, despite leaving Marvel in 1972.
After departing the company, he remained a chairman of the board, and received producing credits in every project that was created on film or on TV.
Aside from his work, Stan and his late wife Joan Lee had one of the strongest marriages in Hollywood. Right until her death in July 2017, they were married for almost 70 years.
But his death struck a chord in me and my man for different reasons. He grew up with the Marvel comic books and when I broke the news of Lee's death, he just said…
– I feel like someone punched me in the stomach.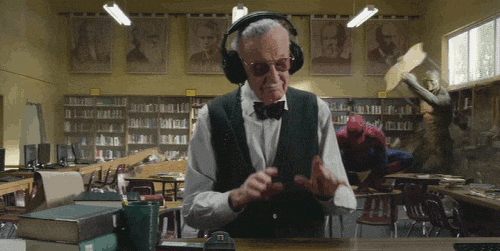 I on the other hand feel sad that I won't get to enjoy his comedic movie cameos. It was always lovely to see him in Thor Ragnarok or in Hulk. Sadly his death will leave a huge void for his fans regardless if they're comic book nerds of film buff like myself.
Rip Stan Lee. You're gone but you'll never be forgotten.