My favorite Luc Besson films… in no particular order
Luc Besson is back to the movie theaters not just with another movie, with another SF adventure movie. Valerian and the City of a Thousand Planets opens next month and it's his first directorial job since 2014's Lucy.

Written by Besson, the movie is based on Valérian and Laureline, the French science fiction comics series, created by writer Pierre Christin and artist Jean-Claude Mézières and stars, Dane DeHaan, Cara Delevingne, Clive Owen, Rihanna, Ethan Hawke.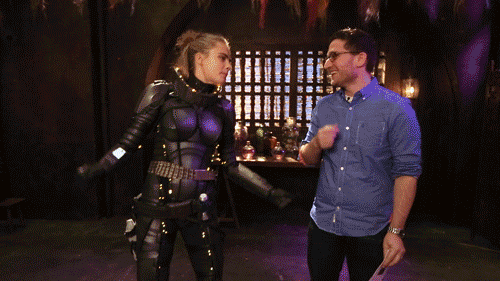 But let me reflect briefly on Besson and his work in the past 30 something years. Known for his love of the SF genre, Besson is also known for his distinctive filmmaking style associated with the movement that critics call Cinéma du look.
The French director  started his career in the early 80's but it would take him less than a decade to make his way in to Hollywood. He made his first English language movie Le Grand Bleu in 1988, and since then has been making eclectic and brilliant movies on the both sides of the pond.
His most recent project Valerian and the City of a Thousand Planets, marks the return of the director to space opera, twenty years after The Fifth Element and the budget of €197 million is by far the largest ever assembled for a French film.
But who are other great movies from Luc Besson's career? Here are my favorites in no particular order. Hope you like them too.
Subway (1985)
Starring: Isabelle Adjani, Christopher Lambert, Jean-Pierre Bacri, Jean-Hugues Anglade…
IMDB Synopsis: Fred, a raffish safe blower, takes refuge in the Paris Metro after being chased by the henchmen of a shady businessman from whom he has just stolen some documents. While hiding out in the back rooms and conduits of the Metro, Fred encounters a subterranean society of eccentric characters and petty criminals. Despite being pursued by the henchmen, Fred finds the time to flirt with Helena, blow a safe, rob a train, evade the hapless Metro police and start a rock band …
The Fifth Element (1997)
Starring: Bruce Willis, Gary Oldman, Ian Holm, Chris Tucker, Milla Jovovich….
IMDB Synopsis: In the colorful future, a cab driver unwittingly becomes the central figure in the search for a legendary cosmic weapon to keep Evil and Mr Zorg at bay.
Léon: The Professional (1994)
Starring: Jean Reno, Gary Oldman, Natalie Portman, Danny Aiello…
IMDB Synopsis: Mathilda, a 12-year-old girl, is reluctantly taken in by Léon, a professional assassin, after her family is murdered. Léon and Mathilda form an unusual relationship, as she becomes his protégée and learns the assassin's trade.
La Femme Nikita (1990)
Starring: Anne Parillaud, Jean-Hugues Anglade, Tchéky Karyo, Jeanne Moreau, Jean Reno…
IMDB Synopsis: Convicted felon Nikita, instead of going to jail, is given a new identity and trained, stylishly, as a top secret spy/assassin.
Le Grand Bleu (1988)
Starring: Rosanna Arquette, Jean-Marc Barr, Jean Reno…
IMDB Synopsis: The rivalry between Enzo and Jacques, two childhood friends and now world-renowned free divers, becomes a beautiful and perilous journey into oneself and the unknown.
The Messenger: The Story of Joan of Arc (1999)
Starring: Milla Jovovich, John Malkovich, Faye Dunaway, Dustin Hoffman…
IMDB Synopsis: A young girl receives a vision that drives her to rid France of its oppressors.
The Extraordinary Adventures of Adèle Blanc-Sec (2010)
Starring: Louise Bourgoin, Mathieu Amalric, Philippe Nahon, Gilles Lellouche…
IMDB Synopsis: An adventure set in the early part of the 20th century and focused on a popular novelist and her dealings with would-be suitors, the cops, monsters, and other distractions.
Angel-A (2005)
Starring: Jamel Debbouze, Rie Rasmussen, Gilbert Melki…
IMDB Synopsis: A beautiful woman helps an inept scam artist get his game together.
Lucy (2014)
Starring: Scarlett Johansson, Morgan Freeman, Choi Min-sik, Amr Waked…
IMDB Synopsis: A woman, accidentally caught in a dark deal, turns the tables on her captors and transforms into a merciless warrior evolved beyond human logic.