My favorite 5 TV/Movie wedding dresses
Well ladies and gents (as you may have heard or read) I'm getting married. And as a bride to be, I'm in a process of wedding planning. I'm relaxed and cool about it, but my dress is being made as I'm writing this and the jitters (and the excitement) are starting to kick in.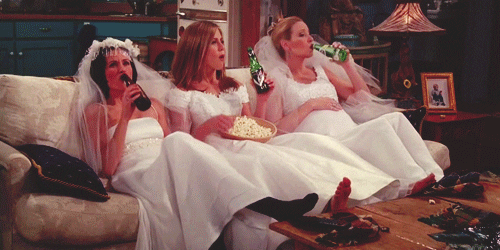 So… while I'm on the subject of wedding dresses, I thought it would be a great idea to share some of my favorite wedding dresses. You know…. Wedding dresses that has graced the big (or small) screen, and dresses that were worn some of the best actresses in Hollywood.

But I'm not here to talk about them. I'm here to talk about the dresses, and why they made an impression on me.
So much so, that my own wedding dress for my upcoming nuptials was inspired by one of them. But for now… let me tell you about my all-time 5 favorite wedding dresses.
Kristin Davis in Sex and the city
Oh MY God… You look like Audrey Hepburn-owitz… What is more to say other than that really? It's the highest compliment to be compared to Miss Hepburn, but Charlotte made this dress even more prettier with her classic style veil and gorgeous 50's inspired hairstyle.
Audrey Hepburn in Funny Face
Speaking of Audrey… here she is in all her style, delicate frame and eternal elegance. She looked like a god damn ballerina, and although I'm not fan of musicals, I must admit that this is one hell of a movie.
Claire Danes in Romeo+Juliet
I love seeing gloves on a wedding dresses and Claire's are perfect on such beautiful yet simple creation. I also loved the front buttons, bare shoulders and V-neck décolletage, so I figured I must include it.
Jennifer Lopez in The Wedding Planner
There is nothing like a classic power suit as a wedding dress. Classic, minimalist and perfect for a city hall wedding. Which was a breath of fresh air in a movie surrounded with weddings and princess ball gowns. Topped with a very short veil, JLo looked very stylish and classy in The Wedding Planner.
Gwyneth Paltrow in Emma
As you may have noticed by now…I hate strapless dresses and Gwyneth's dress in Emma as another prefect dress to add to this list. Inspired by Georgian–Regency style in 19th century England, it's so simple and classy that it's a dress I'd wear right now in 2018.