Matthew McConaughey's essential movies
Well… Matthew McConaughey is back in theaters with another movie. After last year's Gold, the Academy Award Winner now presents The Dark Tower.
The long anticipated film adaptation of Stephen King's novel series of the same name opens this week and since the early screenings, the movie was met sadly with mostly negative reviews from the film critics.
The Dark Tower also stars Idris Elba, Tom Taylor, Jackie Earle Haley, Katheryn Winnick and Matthew portrays Walter o'Dim / Walter Padick / The Man in Black.
An ageless deceiver and sorcerer who also seeks to reach the tower and rule over its seemingly infinite kingdoms. But let's talk about his roles, movies and his career in general. Matthew's career is a long and eclectic one to be honest.  Filled with ups and downs. Hits and flops, it's colorful and distinctive as his his souther drawl.
Matthew portrayed real life people,  amazing fictional characters too, and though all of that enjoyed a fantastic partnership with director Richard Linklater in the span of over 2 decades. He was a leading romantic hero boyfriend for a better part of a decade and since has become not jsut an Oscar winner, but a real movie star.
So what are the Matthew essential movies that you just have to watch before you see The Dark Tower?
Well… let's start from the beginning shall we?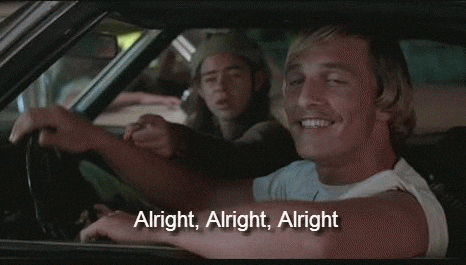 Dazed and Confused- 1993
Directed by: Richard Linklater
Fun fact about it: The character of Wooderson (Matthew McConaughey) was based on Matthew McConaughey's older brother.
Lone Star – 1996
Directed by: John Sayles
Fun fact about it: Included among the "1001 Movies You Must See Before You Die", edited by Steven Schneider.
A Time to Kill- 1996
Directed by: Joel Schumacher
Fun fact about it: This was the second movie in which Kiefer Sutherland and his father Donald Sutherland both had roles. The first being Max Dugan Returns (1983).
Contact – 1997
Directed by: Robert Zemeckis
Fun fact about it: Carl Sagan was to have a cameo as a member of the committee selecting an occupant for The Machine, but died before the scene was filmed.
The Newton Boys – 1998
Directed by: Richard Linklater
Fun fact about it: Matthew McConaughey is from Uvalde, Texas as was the real Willis Newton, the character he plays in the movie.
U-571 – 2000
Directed by: Jonathan Mostow
Fun fact about it: Edward Norton was set for a part in the film before bailing because the opportunity arose for him to make his directorial debut, Keeping the Faith (2000).
The Wedding Planner – 2001
Directed by: Adam Shankman
Fun fact about it: Bree Turner, who plays the bride needing comforting by Jennifer Lopez at the beginning of the movie, also opened another wedding movie, as a bridesmaid in the opening title sequence performance in "My Best Friend's Wedding".
How to Lose a Guy in 10 Days – 2003
Directed by: Donald Petrie
Fun fact about it: The yellow gown Kate Hudson wore in the movie was designed by celebrity designer Dina Bar-El. The necklace she wears with the yellow gown is called, in the film, the "Isadora Diamond" named after Isadora Duncan. The 80-carat yellow diamond in the necklace was designed by Harry Winston and is worth $6 million.
Tropic Thunder – 2008
Directed by: Ben Stiller
Fun fact about it: The character of Kirk Lazarus was originally written as Irish. It was changed to Australian, when Robert Downey, Jr. said it would be easier for him to improvise in the Australian accent he had already developed for Natural Born Killers (1994).
The Lincoln Lawyer – 2011
Directed by: Brad Furman
Fun fact about it: Matthew McConaughey became a spokesman for Lincoln cars in 2014.
Bernie – 2011
Directed by: Richard Linklater
Fun fact about it: Bernie Tiede lived in director Richard Linklater's garage apartment between 2014 and 2016.
Mud – 2012
Directed by: Jeff Nichols
Fun fact about it: Chris Pine was in talks for the title role in May 2011. Despite this, Matthew McConaughey was always writer/director Jeff Nichols's first choice, ever since seeing him in Lone Star (1996).
Magic Mike -2012
Directed by: Steven Soderbergh
Fun fact about it: The film is loosely based on Channing Tatum's experiences as a male exotic dancer before hitting it big as a movie star.
Dallas Buyers Club – 2012
Directed by: Jean-Marc Vallée
Fun fact about it: Over the course of its twenty years in circulation, the script was turned down over 100 times.
Interstellar- 2014
Directed by: Christopher Nolan
Fun fact about it: For a cornfield scene, Christopher Nolan sought to grow five hundred acres of corn, which he learned was feasible from his producing of Man of Steel (2013). The corn was then sold, and actually made a profit.