Let me tell you about reason 8593 why I love Frances McDormand
Frances McDormand is what I want to become when I grow up. I said that once to my friend an colleague and she just said… Yup, a good choice. I thought she would scold me, and would tell me to just be myself, and not to lose my individuality and uniqueness , but she just agreed. She's in fact in love with McDormand nearly as much as I am, and has been a fan of hers for almost 30 years… so I'm glad that she said that.
But let me tell you about one specific reason why I love Frances McDormand. Sure, let's call that reason number 8593, and in the previous 8592 I'll just briefly mention the fact that she's one of the most talented actresses of her generation. And the fact that she's a low key actress. And the fact that she's not a celebrity, but a true auteur of her craft. And the fact that her movies are meaningful, thought provoking and brilliant.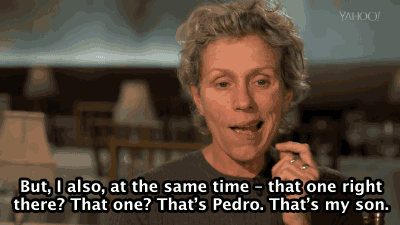 And the fact that her professional collaboration with the Coen brothers has been going strong for more than 3 decades. And the fact that she's a scandal, vice, rehab, divorce free actress that maintained a solid career in Hollywood. And the fact that she wears jeans to movie premieres and award ceremonies. And the fact that she doesn't give a damn about the wrinkles on her face or the cellulite on her ass.
Why on Earth would she? She's a god damn actress, and an Academy award winning one of that. Now, some Hollywood insiders are saying that she's an early contender for yet another nomination, and I could not be happier. She's a force to be reckoned in Martin McDonagh's latest movie Three Billboards Outside Ebbing, Missouri but I want to take you down memory lane and remind you of some piece of Hollywood history.
It was the night of her Oscar win for best leading actress. Frances won the Oscar for her portrayal of Marge Gunderson in Fargo and right after Nicholas cage said her name, she just shook her head. Just for a bit, and like she was doing it in disbelief. Secondly before she got up and went to stage to receive the Oscar she just gently stroked her husband Joel Coen on his cheek and got out. Thirdly, if you were counting, she made this bad-ass move with her shoulders while on stage, and lastly while holding the Oscar, she gave one of the most awesome, and beautiful speeches ever. But let's take a few steps back at the gentle stroking of her husband while in the audience.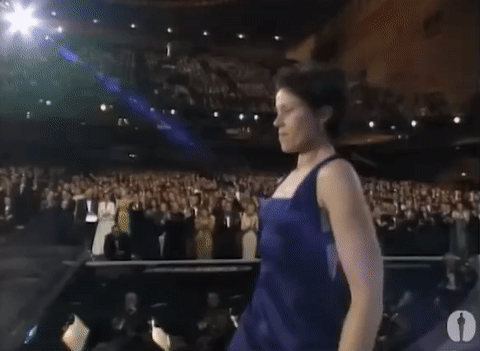 I'm still blown away of how intimate and lovingly she did that. There was no smooching, kissing and crying like plenty of other actresses would have done in that similar situation. There was no need for excess. No need for proving anything. She just won an Oscar in the movie her husband directed and co-wrote and he was so god damn proud about it. I loved that gentle gesture on Joel's cheek. They are a couple that is so notoriously private, but it's no secret that they have one of the most solid and intimate marriages in history. A marriage of 33 years in Hollywood is unheard of, right? Well, sort of.
Unless you're Frances McDormand and Joel Coen. Oh, and bout not proving anything that I've mentioned, that same thing applies on her gesture back then. She didn't had to make any grandiose gesture to prove how much she loved Joel and that small but loving gesture was enough.
So, there here is my 8593th reason on why I love Frances McDormand. And if by any chance she wins another Oscar next year, I hope she does something similar.