Kenneth Branagh put Emma Thompson in his latest movie (and I love that)
All right! You've probably heard about Kenneth Branagh's latest directorial work, Murder On The Orient Express, and by now you've probably seen it. It's actually OK, but you can check out my detailed review of Agatha Christie's latest film adaptation tomorrow… For now I want to focus on one tiny yet very fascinating detail about the movie. Branagh actually put Emma Thomson in it, and she doesn't even say a word.
Yup…I originally read this information on the movie's trivia page on IMDB and I thought to myself… Oh how strange…
The photograph of Katherine, Poirot's love, is actually an image of a younger Emma Thompson, who is Kenneth Branagh's ex-wife in real life. – said on IMDB and at first I dismissed as a joke, but after I saw the movie I actually saw that it's Emma in there.
In not one but in several scenes, Hercule Poirot (Branagh) holds an old photograph of his wife Katherine Poirot and Emma is actually on that black and white old photograph. The actress is visibly quite young (probably in her 20's) and her dress in that photo is probably from the  late 19th century (accompanied with a hairdo of that same era).
For those of you who don't know… Emma was Kenneth Branagh's first wife. They were married from 1989 to 1995 and it was one of the most artistically productive marriages in Great Britain. They appeared together in Fortunes of War, Look Back in Anger, Henry V, Much Ado About Nothing, Dead Again, and Peter's Friends. More recently, they both appeared in The Boat That Rocked, though with no shared scenes. According to some sources the union ended after Branagh's affair with Helena Bonham Carter during production of Mary Shelley's Frankenstein, which Branagh directed and co-starred in.
But seeing that photo of Emma in Murder On The Orient Express actually had me with soooo much question marks over my head. Did she knew about Branagh's intention to use her photo in the movie? Did she approved it? How old is she in that photo, and where it was taken? Is it from some amateur play or is it from Emma's early movies and theater performances as young struggling actress?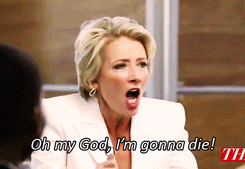 It's fascinating never the less just to see her in Murder on the orient express.