Just a bunch of fun (and useless) facts about Blade Runner
Hear he hear he… The long (and I do mean long) awaited and anticipated sequel to the legendary Blade Runner is coming up at the start of next month. October 6th to be exact.
With the outstanding Denis Villeneuve behind the camera, and Ryan Gosling, Harrison Ford, Ana de Armas, RobinWright, Jared Letto, Mackenzie Davis, Dave Bautista, Barkhad Abdi and Edward James Olmos returning in the role of Gaff in front of the camera, Blade Runner 2049 had a long road to the finish line.
Development of a sequel to Blade Runner began in 1999. Stuart Hazeldine had written a sequel based on The Edge of Human, titled Blade Runner Down; however, the project was shelved due to problems concerning the rights to the novel. Several other directors were attached to the project, in the following years, including Christopher Nolan, but on February 26, 2015, the sequel was confirmed with Prisoners director Denis Villeneuve as director.
But, while we wait for Blade Runner 2049, some 35 years after the release of the Ridley Scott's classic, let's look back at some interesting, yet useless facts. Oh like, ho Blade Runner was initially polarized by the film critics. Some were displeased with the pacing, while others praised its thematic complexity and visuals. It underperformed in North American theaters, but has since become a cult film. Hailed for its production design, depicting a "retrofitted" future, it remains a leading example of neo-noir cinema.
But really… what other cool and fun (and useless) stuff there is to know about 1982's Blade Runner?
After Pris (Daryl Hannah) first meets Sebastian (William Sanderson), she runs away from him, skidding into his car and smashing the window with her elbow. This was a genuine mistake caused by Hannah slipping on the wet ground. The glass wasn't breakaway glass, it was real glass, and Hannah chipped her elbow in eight places. She still has the scar from the accident, as can be seen in Dangerous Days: Making Blade Runner (2007), the feature-length making-of documentary of the film.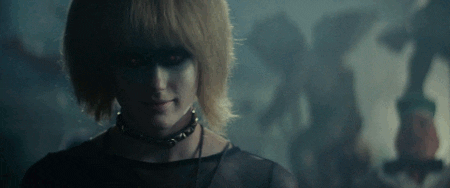 According to Rutger Hauer's biography, the final confrontation between Deckard and Roy Batty was to have been a fight in an old gym, using martial arts like Kung-Fu or something similar. Hauer disliked the idea, saying it was "too Bruce Lee" (he didn't know kung-fu anyway) and claims to have come up with the idea of Batty chasing Deckard.
Ridley Scott regards Blade Runner (1982) as probably his most personal and complete film.
Although Philip K. Dick saw only the opening 20 minutes of footage prior to his death on March 2, 1982, he was extremely impressed, and has been quoted by Paul Sammon as saying, "It was my own interior world. They caught it perfectly." However neither Ridley Scott nor screenwriter David Webb Peoples actually read Dick's novel.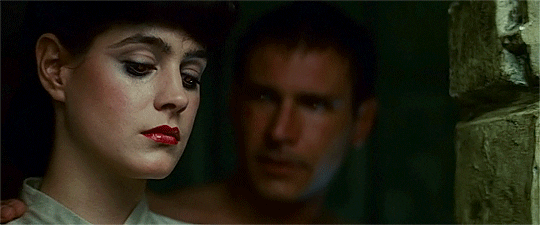 This is Rutger Hauer's favorite of his own films.
The inception dates of the different Replicants are:
-Roy Batty (January 8, 2016).
-Leon Kowalski (April 10, 2017).
-Zhora (June 12, 2016).
-Pris (February 14, 2016).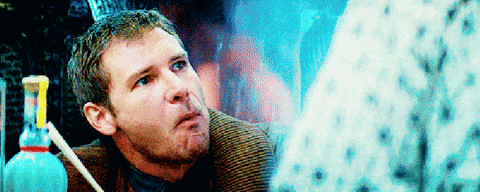 Ridley Scott's first cut ran four hours. Most the crew, including the writers and director, admitted that while it looked beautiful, it was mostly incomprehensible, necessitating additional editing and an explanatory voice-over.
Harrison Ford cites Blade Runner as one of the most frustrating films he's ever made, partly because the shoot was so grueling, and the changes in post-production that were meant to help the film's chances at the box-office didn't.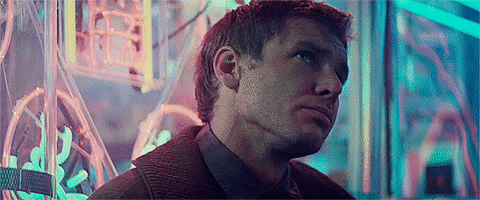 Philip K. Dick personally approved of Rutger Hauer, describing him as, "the perfect Batty-cold, Aryan, flawless".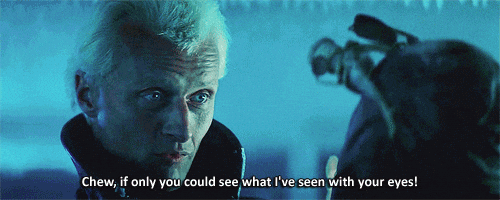 After Philip K. Dick saw Harrison Ford as Rick Deckard in the filming set, Dick declared: "He has been more Deckard than I had imagined. It has been incredible. Deckard exists!".
Rick Deckard is only called by his surname. He is not called by his first name throughout the film.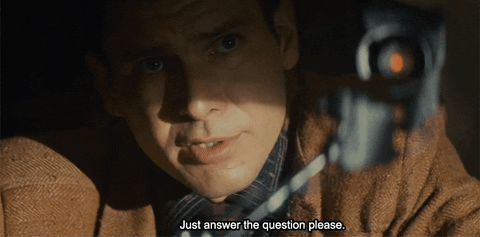 The film takes place in November 2019.
Daryl Hannah still has the blonde wig she wore playing Pris.