Just 7 of my favorite Hilary Swank movies
You know this lady I presume. Two time Academy award winner. One of the best actresses of her generation and one of the most beautiful women of her generation. Yup. I'm talking about Hilary Swank.
She won her 2 Oscars by the time she was 30, but you've probably noticed that she's been absent from the spotlight in a quite a while. She took an acting break in 2015 to be a sole caretaker to her ill father, and 2 years later not only is he doing much better, she's back in the thing she does best. Acting.
She's currently part on Trust, a FX produced TV show about the kidnapping of John Paul Getty III, an event that was already featured in Ridley Scott's All the money in the world. She plays Gail Getty, the mother of the young John Paul Getty III, and her co-star is Donald Sutherland aka her colleague from 1992's Buffy the vampire slayer.
Hillary had her big movie break in The Next karate kid, but it would be much later that she had her critical success. The accolades and the praise came after Boys don't cry of course, and not only did she earned her first Oscar for this role, she earned $75 a day during the production. Oh, and is the first woman to receive an Academy Award in a role as a boxer.
Another fun fact about Hilary is that she won the lead role of Brandon Teena in Boys Don't Cry (1999) after hundreds of other actresses had been considered and rejected over the course of three years. She told director Kimberly Peirce that, like her character, she was also 21 and hailed from Lincoln, Nebraska. But she was fibbing, and when Peirce later confronted her with the lies, she winningly responded: "But that's what Brandon would do".
How cool is that?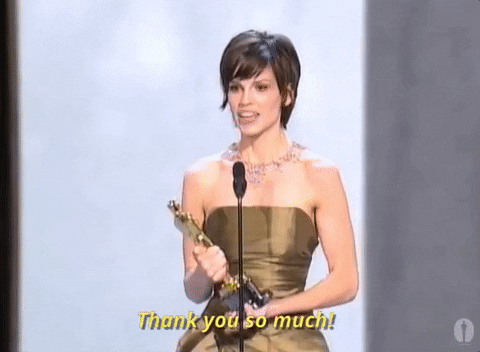 Trust airs today on FX, but until then here are my top 7 favorite Hillary Swank movies.
The Next Karate Kid (1994)
Director: Christopher Cain
Stars: Pat Morita, Hilary Swank, Michael Ironside…
Fun fact about the movie: Pat Morita's final appearance as Keisuke Miyagi.
Boys Don't Cry (1999)
Director: Kimberly Peirce
Stars: Hilary Swank, Chloë Sevigny, Peter Sarsgaard…
Fun fact about the movie: Diane Keaton originally considered directing with Drew Barrymore in the lead.
Insomnia (2002)
Director: Christopher Nolan
Stars: Al Pacino, Robin Williams, Hilary Swank…
Fun fact about the movie: Robin Williams would later say that the isolation of filming on location in Alaska contributed to his falling of the wagon and drinking relapse while shooting this film.
Red Dust (2004)
Director: Tom Hooper
Stars: Jamie Bartlett, Hilary Swank, Ian Roberts…
Fun fact about the movie: It's a neglected movie, because it came out in the same year as Million dollar baby.
Million Dollar Baby (2004)
Director: Clint Eastwood
Stars: Hilary Swank, Clint Eastwood, Morgan Freeman…
Fun fact about the movie: At age 74, Clint Eastwood became the oldest Best Director Oscar winner for this movie.
Amelia (2009)
Director: Mira Nair
Stars: Hilary Swank, Richard Gere, Ewan McGregor…
Fun fact about the movie: Ewan McGregor & Christopher Eccleston previously co-starred in Shallow Grave (1994).
The Homesman (2014)
Director: Tommy Lee Jones
Stars: Tommy Lee Jones, Hilary Swank, Grace Gummer…
Fun fact about the movie: Meryl Streep's third collaboration with Tommy Lee Jones, following A Prairie Home Companion (2006), and Hope Springs (2012).