Josh Brolin has some awesome upcoming movies and you need to know them
Josh Brolin is a lot of things. Husband, father, Hollywood royalty and from next year, probably one of the most wanted villains in the Marvel Cinematic Universe.
Yup! He's to appear in 6 movies in the next few years, four of them are sequels and two of them are part of the MCU. You may have previously saw him in the role of Thanos (an un-credited cameo appearances in Guardians of the Galaxy and Avengers: Age of Ultron) but there is more to come from Josh and from precisely that character. Believe me.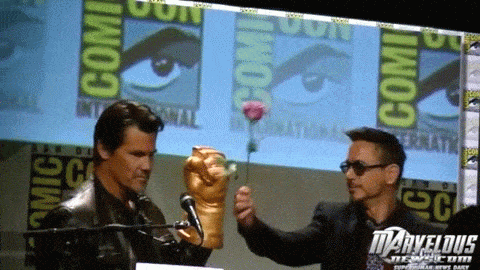 Thanos will be in 2018's Avengers: Infinity War and of course will portray the role of Nathan Summers / Cable in 2018's Deadpool 2. He'll basically be Wade Wilson's nightmare and I am IN for that to be honest.
But I want to remind of all of Josh's upcoming movies, not just those that are coming from he Marvel Film Studio. For instance there is the Joseph Kosinski's biographical drama Only the Brave that's coming to theaters this month and it's apparently a major Oscar contender….
But let's take one step at a time.
Here is a brief info about the upcoming projects of Josh Brolin that deserve your undivided attention…. Take a look and mark your calendars.
Only the Brave
Director: Joseph Kosinski
Stars: Josh Brolin, Miles Teller, Jeff Bridges…
Premiere date: October 20 (2017)
Fun fact about the movie: This is the first time Josh Brolin and Jeff Bridges have worked together since True Grit (2010).
The Legacy of a Whitetail Deer Hunter
Director: Jody Hill
Stars: Josh Brolin, Danny McBride, Scoot McNairy
Premiere date: TBA (2017)
Fun fact about the movie: Josh Brolin and Montana Jordan, along with their stunt doubles, were asked to jump in freezing rivers in Western North Carolina, as the temperatures plummeted well below freezing, in order to get some shots.
Avengers: Infinity War
Directors: Anthony Russo, Joe Russo
Stars: Dave Bautista, Karen Gillan, Tom Holland…
Premiere date: 18 May (2018)
Fun fact about the movie: There are sixty-four main characters in this film, according to Marvel.
Deadpool 2
Director: David Leitch
Stars: Morena Baccarin, Ryan Reynolds, Josh Brolin…
Premiere date: 1 June (2018)
Fun fact about the movie: A fan petition was made for Quentin Tarantino to direct the sequel.
Soldado
Director: Stefano Sollima
Stars: Isabela Moner, Josh Brolin, Christopher Heyerdahl…
Premiere date: 29 June (2018)
Fun fact about the movie: The sequel to Sicario is believed to focus on Josh Brolin character Matt Graver.
Untitled Avengers film
Directors: Anthony Russo, Joe Russo
Stars: Karen Gillan, Brie Larson, Evangeline Lilly…
Premiere date: 3 May (2019)
Fun fact about the movie: The film will conclude the recurring Thanos and Infinity Stones story-arc in the Marvel Cinematic Universe.