Jen and Reese are prepping a new TV show… but let's reflect on their 2 Friends episodes
Well it's happening folks! Jennifer Aniston and Reese Witherspoon are teaming up for a new TV series. The series which is in development will be centered on a NY morning show, and not only the two actresses are producing it, they will also star in it.
Reese starred in Big Little Lies, the hit HBO mini-series this year, but with the exception of guest appearances in Dirt, 30 Rock and Cougar Town Jennifer has been MIA when it comes to starring in a TV series. Well she's not been acting properly in one since 2004 and Friends finale.
The new TV series is expected to air in 2018, and it will be the first on screen presence for Jen and Reese at the same time since Reese's 2 episode guest appearance in Friends.
The year was 2000, and it was a very different time. Reese was still married to Ryan Phillipe, she was not an Academy Award winner just yet, and she didn't even starred in Legally Blonde yet. The cult comedy was released one year later.
So then 24 year old Reese played Jill. Rachel Green's (Jennifer Anniston) baby sister in 2 episode guest appearance. She was in The One with Rachel's Sister episode and in The One Where Chandler Can't Cry, and received American Comedy Award nomination for that role.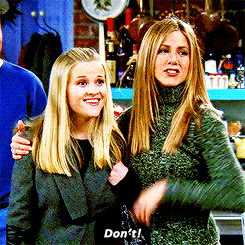 So… in case you don't remember those 2 particular episodes from Friends… by all means… let me refresh your memory.