In defense of Jolie's Tomb Raider
The first teaser for 2018's reboot of Tomb Raider is officially out. Another actress has embodied the role of the famed video game character Lara Croft, and a second Oscar winner of that. I'm of course talking about Alicia Vikander. 17 years after Angelina Jolie became Lara, the Swedish actress will attempt (teamed with director Roar Uthaug) to do the imaginable. Save the- video game to film adaptation- bad rep and prove once and for all that there can BE a decent video game movie.
But the thing is… There was a decent video game movie back in 2001, and I'm here to defend it. Sure… far form a master piece Lara Croft: Tomb Raider was the summer blockbuster movie, the film fans needed. Including this one. Me… Because I actually liked it… and since I saw it again just a few days ago, I can say that it was just that. A decent video game summer blockbuster movie.
The summer of 2001 already brought action movies from several sub-genres such as Swordfish, The Fast and the Furious, Rush Hour 2, but Tomb Raider was in the action adventure sub-category. A fairly looked down piece of film-making in the early 2000's but the movie managed to earn more than 200 million dollars globally, despite from the poor critical reception. Not everyone dissed the movie however. Roger Eber gave it 3 star rating and in the film review he said:
"'Lara Croft Tomb Raider' elevates goofiness to an art form. Here is a movie so monumentally silly, yet so wondrous to look at, that only a churl could find fault."
Yes I'll be the first to admit, the silliness (Illuminati's clock for instance), and the plot holes, the terrible pacing and even more terrible British accent from Jolie was undeniable, but you'd be a full if you ignore the then fantastic action scenes, and the general energy (and at times fun) the movie had. The teenager in me loved them. Who can forget the Lara VS Simon fight in the opening scene, or the bungee jumping/armed robbery in Lara's mansion? There was a dose of humor coming from Noah Taylor's Bryce geeky character but also from Chris Barrie' butler Hillary. There is the devilish charm of Daniel Craig's pre-Bond fame, and of course the villainous Iain Glen pre-Game of thrones fame. If you recall, much like in the case of the reboot, the 2001 movie came after Jolie's win in the best supporting category, and so was the case with Vikander's win in the same category.
Both actresses won Oscars in their 20's and both are actually non British. Jolie is an American while Vikander is Swedish. But maybe the fault of the 2001 Tomb Raider dissing was from the publicity outside from the movie. Back in the day, Jolie was not the director/UN ambassador/humanitarian/ advocate who goes to Darfur or to Greece to visit refugees – Jolie. You know… the Jolie we know today. She was in the process of adopting her first child and back then she was known for different things. Her fascination with knives, death, blood, and her feud with her father John Voight. So when Voight accepted to play Lara Croft's father in the movie, it was seen not just an Olive branch for a father/daughter relationship, but a marketing tool.
If you recall, the casting of Voight was very much discussed and talked about in the summer of 2001, and I must say Mr. Voight did his job beautifully. I'm not quite sure he understood the role, but you can clearly see that he brought warmth and balance to the action packed and sometimes confusing movie. However, i have several reasons to be hopeful about the reboot next year. Not to be an outstanding master piece of Hollywood history per se, but a decent one like its predecessor. First of all, the movie is in the hands of Roar Uthaug. The extra talented Norwegian director who despite being a rookie in Hollywood have had his fair share of action in his movies, and Tomb Raider will be an English speaking debut film for the 44 year old director. Secondly… I'm glad it's an origin story movie reboot. When in doubt go with origin movie. Hell. The 2 previous Spiderman reboots did that and managed to make decent movies out of that concept. And thirdly. Vikander. The actress although talented and with under-developed in the muscle and boob ratio is a fine choice for the role. She actually played the video game growing up. Can you believe it?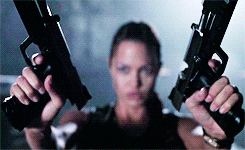 So… in the end although the 2001 Tomb Raider  was pretty much a mix bag  from the start, it managed to become one of the most decent and somewhat entertaining video game movies in history. I'd be very happy if the reboot does just that. I'm not asking for a master piece here. My expectations are very low here. Decent in fine with me. Kinda like 2001's Tomb Raider.