In Case You Didn't Noticed… Christian Bale Has A Soft Spot For Real-Life Characters
Yes, I know I know…. I'm stating the obvious. I knooooow. Christian Bale is truly amazing in practically everything, and Ford V Ferrari is apparently no exception. But I digress… He's my favorite Batman, he's my favorite Patrick Bateman and I've been loving his talent and dedication since I saw him in Empire of the Sun.
He's been my crush since Newsies and I'm yet to discover if there's a better Laurie in the upcoming Little Women film adaptation. However, those are all fictional characters. Later in his career, he found a real soft sport for portraying real life characters, and you've guessed it…He's awesome in those too. Seriously. Did you expected anything less from him? No, I didn't think so. However, before I touch those characters (nine in total) I must go back, like waaay back in the mid 80's. Yeah. Back in 1986, Christian Bale played Prince Alexey Romanoff in Anastasia: The Mystery of Anna. That particular role not only got him on a track of playing fantastic characters, it was in fact the role that got him a ticket to Hollywood. How you might ask? Well, in that particular TV movie, Christian played opposite Amy Irwing – the then wife of Steven Spielberg. Legend has it that it was she that recommended young Christian to her husband for the role in Empire Of The Sun, and the rest is history.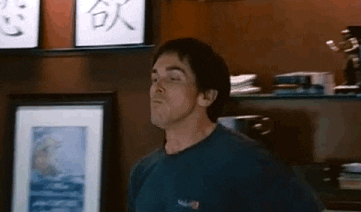 But, in fact Christian's real dive into portraying real life characters started in 2005 when he played John Rolfe (Pocahontas's husband) in Terrence Malick's The New World. If you haven't seen it, I urge you to go and watch it. Immediately. You'll thank me later. It's my favorite (yes all-time favorite Malick movie) and although Christian is in supporting role, he's nonetheless, brilliant. Rescue Down, Public Enemies and The Fighter followed in short order, and the role of Dicky Eklund won him his first and only Oscar.
He played Moses, Jesus and Dick Chaney but one of my favorite real life roles of his is Michael Burry in The Big Short. Ironically it was one of the few roles that didn't required drastic weight gain or loss (he's been a legend in that department) but a simple raw talent. And he delivered that once again. His role in the Big Short was just shy of perfect, and along with Steve Carell's performance one of the best points of the entire movie.
Last year he was Dick Chaney in Vice and I'm really looking forward in seeing him in Ford V Ferrari. I'll be heading to the movie theater later this week, since I was on a business trip to Germany last week (hence my absence here on Filmsane). But to be fair there are other reasons for watching this movie (aside from Bale). I'm actually excited for Matt Damon's comebacj (let's call it that) and the fact that it's directed by James Mangold. He and Christian have a lasting relationship that dates back from 2001 (when he did Captain Corelli's Mandolin) and since this is Mangold's first movie since Logan…. I'm sold! You can expect my Ford V Ferrari this week,, here on Filmsane.