I had my Rachel moment and it wasn't pretty
All right now… I'm going to start from the very beginning and work my way up to the point of this post. How I got my Rachel moment and how I didn't quite like it. Let me explain.
It was my fiancée's birthday this Monday. We celebrated it at home with some of our closest family and friends and it was great. I made cous cous, I bought a chocolate birthday cake and it went swell. The reason I bought the cake was because after 2 attempts of baking, I failed on both occasions and rightfully decided to stop my misery and just go out to the nearest bakery and buy Martin a birthday cake.
I admit when I'm wrong and certainly I admit when I'm terrible at baking cakes. His mother on the other hand doesn't. So, she decided to make another separate cake for her youngest son's birthday and that's where my Rachel moment comes in. Remember that Friends episode in which Rachel (Jennifer Anniston) attempts to cook a trifle? Yeah… She put whipped cream, bananas, ladyfingers and minced beef because she followed two different recipes (trifle and Shepherd's pie)?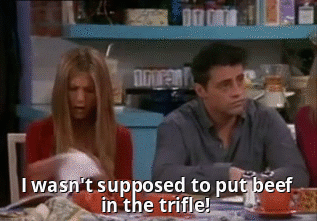 Well… My future mother in law didn't put sautéed beef, but god damn it she put everything else we had in the fridge. She followed no recipe in her no bake birthday cake. I repeat no recipe. None. Every single ingredient that she put in that cake was eyeballed in measurements, textures and flavors. There were about 28 different ingredients for a cake that wasn't even baked. Coconut flakes, biscuits, grounded walnuts, ladyfingers, sorbet, vanilla pudding, whipped cream, melted chocolate and so much more. It was barely edible, overly sweet and surprisingly chewy. Cakes should not be chewy… But I swallowed it with a fake smile on my face.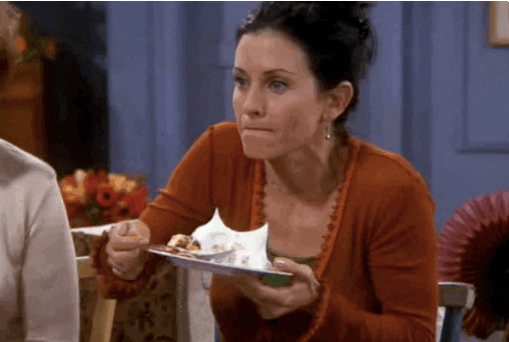 And I'm getting to my Rachel moment. Except I wasn't Rachel… I was every single person besides Rachel. I had to swallow that cake and actually say I like it, when in fact I didn't. I was basically Joey at one point. Beef good. Jam good, was his famous quote, and I found myself quoting that very same thing at the dinner table. Martin was thankfully the only one that understood that reference, but I can safely say that I had my Rachel moment. Or is it Joey moment? Never the less…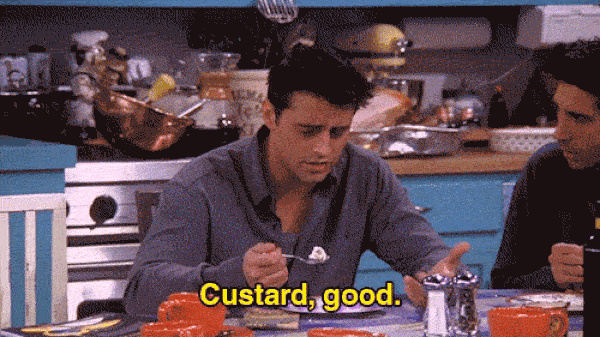 It was not a pleasant moment for me or my stomach.