Hey Emily Blunt! I knew it right away too!
I know it sounds corny and cliché but I actually agree with Emily Blunt's meet cute realization that John Krasinski was the man she was going to spend the rest of her life with. She immediately knew that he's THE ONE and very similar thin happened to me. I get it girl. I get it.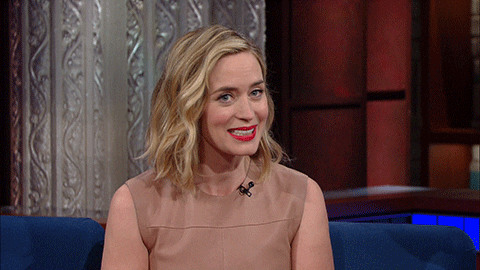 During her appearance on Seth Myers's show she talked about meeting John at a restaurant for the first time, and how she knew right away that he's the ONE!
I kinda did, she said and I can relate to that. I really can.
I also met my fiancé at a lounge bar/restaurant and unlike Emily, i wasn't enjoying my single girl status. But almost immediately after starting up a conversation (i set at his table) I knew that I have found the one. I was also in a very bad place when we met, and slowly but surely kinda healed all the wounds I had before that.
I was unemployed for some time and a month before we met I stopped talking to my best friend of 23 years. She failed to invite me to her wedding and I took it really hard back then. I'm in a much better place now, thanks to him… but like in Emily's place I knew alarmingly fast.
And trust me it's not just a feeling reserved for a small group of sentimental and hopeless romantics like us. A while back I was chatting with a college friend of mine about our engagement and how quickly it happened and I distinctly remember telling me that she also knew that her man is the one.
15 or 20 minutes after meeting him, she told me.
So, I think it's a good thing. And statements like these are not just reserved for Nora Ephron rom com aficionados. How about you? Any of you ladies had a similar experience? Feel free to share it with me. I'd love to hear/read about it.