Forgotten movie gems of 1997
Let's have a look back a little. No, scratch that. A lot. Let's have a big heaping look back.
Two decades worth of looking back in fact. Let's go back to much simpler times. In 1997 to be more precise and when Leo Dicaprio was "King of the world" when Pierce Brosnan was still 007 and George Clooney was Batman.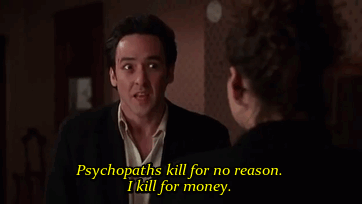 Like I said… Simpler times. And yes back in 1997 Titanic ruled everywhere (box office, awards circuit, music charts) Ben Affleck and Matt Damon were reaching out to acting/screen-writing heights and Kevin Smith actually made fantastic movies.
But for now I want to reflect on the almost forgotten movies of that year. Movies that were under-appreciated, looked over or had the misfortune to have the same actors and release date with much bigger and well known movie. Hint* Robin William's Blubber.
Who are some of the forgotten gem movies of 1997? Take a look.
Grosse Pointe Blank
Director: George Armitage
Stars: John Cusack, Minnie Driver, Dan Aykroyd…
Fun fact about the movie: Features appearances by most of the acting members of the Cusack family: John Cusack, Joan Cusack, Ann Cusack and Bill Cusack. Only their father, Dick Cusack, is absent.
Rosewood
Director: John Singleton
Stars: Jon Voight, Ving Rhames, Don Cheadle…
Fun fact about the movie: Though most of the film is based on true events, the film's main character, Mann (Ving Rhames), is mostly a fictional creation. He is likely based upon a report in the week following the massacre by the Chicago Defender newspaper, that a soldier named Ted Cole appeared and fought against the lynch mobs. This claim was never repeated, nor verified.
Addicted to Love
Director: Griffin Dunne
Stars: Meg Ryan, Matthew Broderick, Kelly Preston…
Fun fact about the movie: Dominick Dunne: The food critic who accidentally eats a cockroach is director Griffin Dunne's father.
Conspiracy Theory
Director: Richard Donner
Stars: Mel Gibson, Julia Roberts, Patrick Stewart…
Fun fact about the movie: One of two times Richard Donner and Mel Gibson didn't make a Lethal Weapon movie together. The other movie was Maverick (1994).
The Rainmaker
Director: Francis Ford Coppola
Stars: Matt Damon, Danny DeVito, Claire Danes…
Fun fact about the movie: As filming went on, Matt Damon continued to gain most of the weight that he had lost purposely for his role in Courage Under Fire (1996).
Playing God
Director: Andy Wilson
Stars: David Duchovny, Timothy Hutton, Angelina Jolie…
Fun fact about the movie: Angelina Jolie said in an interview that she filmed two sex scenes that were cut from the film.
A Life Less Ordinary
Director: Danny Boyle
Stars: Cameron Diaz, Ewan McGregor, Holly Hunter…
Fun fact about the movie: Ewan McGregor sings "Round Are Way" by Oasis. He was a big fan of the band at the time.
Mousehunt
Director: Gore Verbinski
Stars: Nathan Lane, Lee Evans, Vicki Lewis…
Fun fact about the movie: The mouse doesn't appear until 20 minutes into the film.
Flubber
Director: Les Mayfield
Stars: Robin Williams, Marcia Gay Harden, Christopher McDonald…
Fun fact about the movie: According to Wil Wheaton, in the scenes that he was in with Robin Williams, they would film a take the way it was supposed to be filmed. After that take, Williams would often want to improvise scenes differently than the script, just for fun. Those scenes were not added to the actual film, but there were enough scenes to make an entirely different movie.