Favorite Winona Ryder movies in no particular order
Winona Ryder grew up in front of our eyes I feel like, but also we kind of grew up with her. Literally. Oh and let me tell you a little secret. She and Chloe Sevigny are my ultimate 90's crushes that I still to this day love to see in movies and on TV.
You see they both share similarities, and especially in their careers. They both started their acting careers as teenagers and got their stardom pretty quickly. At some point they both gained notoriety and were practically vilified in the media (Winona about her shoplifting scandal and Chloe about her scenes in Brown Bunny) but they both managed to get a career resurrection (a comeback if you will) with a TV hit series. Chloe with Big Love and Winona and Stranger Things.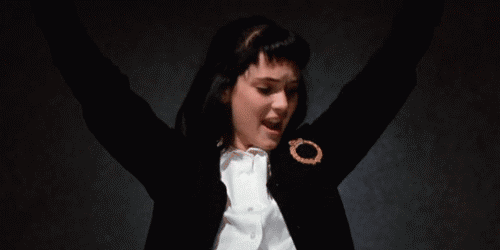 But I'm here to discuss a bit about Winona. The ultimate melancholy girl of the 90's. You see… for kid who grew up in the 90's Winona was the cool chick. She dated Johnny Depp, she wore black, she rocked a short haircut better than anyone EVER did and had a sense of fragility behind those big eyes.
She also for some reason represented a mix of teenage angst and sophistication, and was as mysterious to me as a Mona Lisa. And I've seen the Mona Lisa in person.

But this upcoming weekend Winona is returning once more to the small screens. The second season of Stranger Things will be released on Netflix, and as a hard core fan of the series' first season I cannot wait.
However, while we wait for the second season to drop, let me introduce my favorite Winona Ryder's movies. In no particular order.
Heathers (1988)
Director: Michael Lehmann
Stars: Winona Ryder, Christian Slater, Shannen Doherty…
Fun fact about the movie: Brad Pitt auditioned for the role of J.D. He was rejected because he was considered "too nice."
Beetlejuice (1988)
Director: Tim Burton
Stars: Alec Baldwin, Geena Davis, Michael Keaton…
Fun fact about the movie: This is Michael Keaton's favorite film of his own resume.
Mermaids (1990)
Director: Richard Benjamin
Stars: Cher, Bob Hoskins, Winona Ryder…
Fun fact about the movie: The film's three central female characters were portrayed by actresses – Cher, Winona Ryder, and Christina Ricci – who all sported jet black hair in the movie.
The Age of Innocence (1994)
Director: Martin Scorsese
Stars: Daniel Day-Lewis, Michelle Pfeiffer, Winona Ryder…
Fun fact about the movie: Daniel Day-Lewis checked into the Plaza Hotel as "N. Archer" and lived there for 2 weeks wearing clothes suitable to his film character as research for Newland Archer.
Black Swan (2010)
Director: Darren Aronofsky
Stars: Natalie Portman, Mila Kunis, Vincent Cassel…
Fun fact about the movie: The script took around ten years to make it to the screen.
The Last Word (2008)
Director: Geoffrey Haley
Stars: Wes Bentley, Winona Ryder, Ray Romano…
Fun fact about the movie: According to an interview he gave to the New York Times in 2010, this movie was made during the middle of Wes Bentley's decade-long, extremely serious addiction to cocaine and heroin. He said in that interview that he only accepted any movie roles during that time so that he would have money to buy enough drugs.
Girl, Interrupted (1999)
Director: James Mangold
Stars: Winona Ryder, Angelina Jolie, Clea DuVall…
Fun fact about the movie: This is one of many roles in which Winona Ryder's character writes in a diary.
Star Trek (2009)
Director: J.J. Abrams
Stars: Chris Pine, Zachary Quinto, Simon Pegg…
Fun fact about the movie: This marks Leonard Nimoy's seventh appearance in a Star Trek film.
Edward Scissorhands (1990)
Director: Tim Burton
Stars: Johnny Depp, Winona Ryder, Dianne Wiest…
Fun fact about the movie: Winona Ryder dropped out of The Godfather: Part III (1990) to appear in this film. Reportedly, it was Johnny Depp who actually convinced her to do so.