Brad Pitt is teaming up with David Fincher again… and I can't wait
Brad Pitt/David Fincher collaboration is one for the books. It's right there among the Burton/Depp and Wilder/Lemon partnership, and although it consists of only 3 motion pictures, that collaboration has been spanning for 22 years. Well… since 1995 crime thriller Se7en which Fincher directed and Brad starred in (along Morgan Freeman and Kevin Spacey respectively).
And after Se7en, Fight Club and The Curious Case of Benjamin Button Fincher and Pitt are teaming up once more for another film project and I cannot be more excited. David Fincher is set to helm the World War Z's long awaited sequel. Pitt already starred in the 2013 film adaptation of Max Brooks's book of the same name, and Paramount was in long lasting search for a director for the sequel. Well up until now.
Paramount Pictures boss Jim Gianopulo (in an interview for Hollywood Reporter) confirmed that Fincher is involved in the upcoming sequel and also revealed the film is "in advanced development". However that particular development according to Gianopulo was delayed (until now) because the ongoing divorce between Brad and Angelina Jolie.
Now that the sequel is "all set and confirmed" let's hope and pray that Fincher will not step down from this project (as he's previously done on several other films). David Fincher was previously set to oversee "Steve Jobs," but dropped out in August 2014 due to contractual disputes. Between 2010 and 2013, he also developed a "20,000 Leagues Under the Sea" remake with Disney, but he ultimately left the project to direct "Gone Girl". You get the picture right?
But why would he do that? Well, for one David Fincher is a strong willed and non compromising auteur. A master of his craftsmanship, Fincher is very picky about his projects, and the people who surround him during the making of those projects. He's also known to have total control in every aspect of the film production, and dislikes any type of studio interference in the process.
Secondly, while he doesn't have a problem with book adaptations (Zodiac, The Curious Case of Benjamin Button, The Social Network, The Girl with the Dragon Tattoo and Gone Girl were adapted from bestselling books), he does have a problem with directing sequels.
After the trauma that Fincher experienced with his debut motion picture Alien 3, he's been reluctant (until now) to do a sequel to a movie. I mean hard core reluctant, and who can blame him? Alien 3 was a difficult movie to make, ended up being critical failure (compared to the previous 2 Alien films) and it would take 3 years (and a long rebuilding of his reputation) for him make another movie. So you can imagine his trepidations about having another failed sequel in his resume.
But the brighter point in World War Z sequel is also the fact that not only Brad is in front of the camera (reprising the role of Gerry Lane), he's also one of the producers of the movie sequel. And I think that precisely that fact puts the director at ease when it comes to the movie.
World War Z 2 (according to Den Of Geek) is likely to arrive in cinemas in 2019 and production is expected to begin early next year, however fans of Fincher will be able to see his other project (another TV project ) much sooner. Crime drama series Mindhunter (which Fincher fully produced and directed 3 episodes of the series )will air in October on Netflix. It's another book adaptation in his career (now headed to TV) but I have no doubt that it will be great.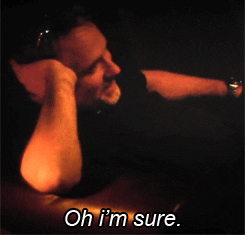 Oh, and Mindhunter has Jonathan Groff in the male lead. I mean how cool is that?