A girl's defensive rant about Ocean's Eight
Or should I say… Woman's defensive rant about Ocean's Eight. You've probably heard the news, and since yesterday… You've probably seen the first official trailer for Ocean's Eight. Both a sequel to and spin-off from the Ocean's Trilogy, directed by Gary Ross and led by Sandra Bullock and Cate Blanchett. Bullock is Debbie Ocean in Ocean's Eight.
Danny Ocean's estranged sister and we'll get to witness her attempt to pull off the heist of the century at New York City's star-studded annual Met Gala. Her first stop is to assemble the perfect crew: Lou, Rose, Daphne Kluger, Nine Ball, Tammy, Amita, and Constance.
Cate Blanchett, Anne Hathaway, Mindy Kaling, Sarah Paulson, Awkwafina, Rihanna, Helena Bonham Carter, and Richard Armitage are in the cast as well and the movie opens on June 8th 2018.
I've got both a bone to pick with all the haters on Ocean's 8, and defend the hell out of this movie. Call me a biased woman (mostly cause I have breasts and all….) but I truly hope this movie succeeds. Not just critically but with the audience as well. I'm fully aware the other half of the population is not going to be happy with this movie, but the movie fan in me truly hopes it kicks ass. Look… spin offs, and reboots are nothing new in Hollywood, and the current trend in that department is all female cast (Ghostbusters being a most notable example of that trend) but for now let me tell you why I think (and hope) this movie succeeds.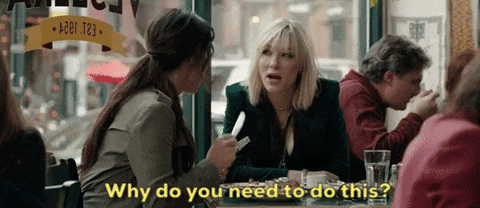 First of all it contains 3 Academy Award winners. Cate, Sandra and Anne. That's not just star power, but quality power in the front line of my defense. You just know you're in for a treat (acting wise) when you see those ladies on the big screnn. Furthermore the movie has Sarah Poulson, Helena Bonham Carter and Mindy Kaling as a re-enforcement, and last but not least Rihanna and Awkwafina in the team also. It's a mixed bag, but actually a good one. There is star appeal for literally everyone, and for the movie being a reboot/spin off argument… Well… so is Jumanji and The Mummy, Tomb Raider… I didn't hear anyone complain about them.
Furthermore, I'm happy that this is a woman's spin on a male dominated genre. Let's face it…. Heist movie has long been a male's territory. Even in the 2001 Steven Soderberg's directed remake of the 60's classic the female roles  were scarce and reduced to a damaged damsel in distress/love interest of the male lead. In case you were wondering that was Julia Robert's part in Ocean's 11. And right now? Who knows if there is a love interest in Ocean's Eight, but I won't be surprised if there is none. He/she's not that necessary actually.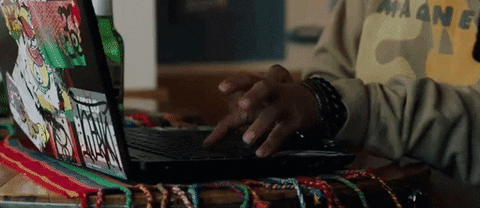 I think the main focus of this movie, will of course be the bond and collaboration between the women. They will all put aside their differences and prejudices and manage to work together in order to get the job done. The 150 million dollar job.
If you're concerned that the female actresses will ruin the movie… don't. If anything the movie will be ruined by the bad script and terrible directing… just like with any other movie. Ocean's Eight will be no exception if that were to happen but, the actresses won't be at fault. Looking at the first trailer for instance…  I have a slight problem with putting Helena's name at the end of the credits in the first trailer… but hey I guess Rihanna has more star power and this movie is aimed at the younger American generation.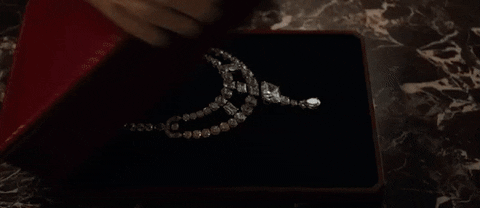 And in the end…. If you just take a second and go to the Youtube comment section of the published trailer… You'll see dozens upon dozens comparing Ocean's 8 to Ghostbusters. Or should is say predicting the similar fate with this particular movie. Again… it's not an issue if you enjoyed Ghostbusters. I know the movie got a lot of heat and bad press but come one… You have to admit that is was one enjoyable, funny and fun movie, and I just hope Ocean's 8 brings out the best of the women's characters. I hope there will be lots of strong female characters, lots of smart, capable and intelligent characters. I hope those characters kick ass. I hope they are the female characters I wish the movies had when I was growing up. Frankly back in the movie of my childhood, the female roles were mostly second fiddle, bimbo or supportive wife of the leads who had lines like… Oh Brad not again….
So there… I hope that you enjoyed my little rant… Oh and don't worry… There is plenty more from that came from. Just give me more all female-cast movies to rant about.