A Beautiful Day In The Neighborhood And The Act Of Forgiveness
So… I watched two movies this past weekend. The first was the Episode IX – The Rise of Skywalker the last movie of this final trilogy, and the second one was A Beautiful Day In The Neighborhood.
And although I'm yet to write the review for Episode IX, I want to write something that moved me in the A Beautiful Day In The Neighborhood. The Marielle Heller directed drama is partially inspired by Tom Junod's article in the Esquire magazine, called Can You Say… Hero? And partially it's a heartwarming biopic about the legacy that one great man left for generations to come. Mr.Rogers.
And with the awful things that have been happening to me in my private and professional life (at the end of this year), I figured, I needed something to keep my heart and soul warm.  I needed something that would re-assure me that everything is going to be OK. And that something (dare I say someone) was Mr. Rogers.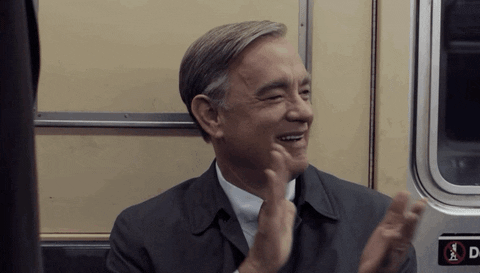 Played masterfully by Tom Hanks, A Beautiful Day In The Neighborhood was equivalent of a cozy warm sweater that you put on, while you sit near the open fire and you drink a warm cup of cocoa. With the love of your life by your side. Yeah… It was that good. To say that the movie was delightful would be understatement.
But I firmly believe that the life and career was not the main focus in this wonderful film. I think the act of forgiveness is. Let me break it down. Lloyd Vogel aka the main character in A Beautiful Day In The Neighborhood, is estranged from his father Jerry (played by Chris Cooper).  He holds a lot of anger, resentment and hatred towards his father for abandoning his family in their time of need. His mother was dying, and right in that moment when he needed him the most, he was gone.
Fast forward to 1998, when the main plot of the movie is happening and Lloyd is now a journalist working for Esquire. Guided and supported by his wife and of course by Mr. Rogers he will (SPOILERS!) find it in his heart and forgive his father for the abandonment, and I think this is the key here. Forget the singing, forget the puppets in the Neighborhood of Make-Believe and dreams. And forget his on-screen persona. Here we find out that Mr. Rogers was just as wonderful and kind in real life as he was on his popular children program.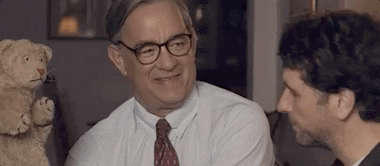 But the thing is… Lloyd had to do the heavy lifting himself. He was the one that had to do the actual forgiving. At the very start of the movie he was a husband and a father to a young son, and I think that that changed his point of view. Or maybe he just grew up. He became a man.
I don't have children yet, but I also grow up some years ago. Which is why I was able to relate to Lloyd's story so easily. My father didn't abandon me or my family but he was pretty abusive (physically and verbally) towards my mother. We lived (for years and years) in fear that he might do something to my mom and frankly once you experience something like that… it never goes away. I was a nervous panicky wreck for the better part of my childhood and adolescence because of that. Even to this day, I break into a sweaty pool of neurosis every time I hear someone starting an argument. You can manage it to become a functioning member of society, but there's always that fear in you.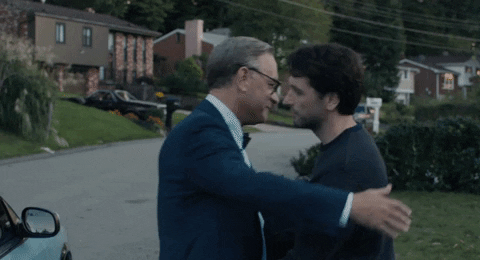 I'm certain that my alcoholic career began as a way of numbing myself to forget all the terror that I went through when I was a child, and it took me a lot of therapy and self-love to get to this point. To get to the finish line of the act called forgiveness.
It's not easy, and it's a gradual process. You can't do it over night. It should sit with you for a long time and right at the moment that you become a much better version of what you used to be, that's the moment that you should say it out loud. If you're so worked up about saying it… write it, send it via email if you want but do it. You'll feel much better, I promise.